Slick Rock Falls Trail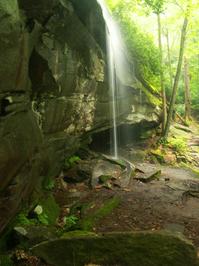 At A Glance


0.7 mi one-way
Difficulty Rating: 0.7 (Moderate)
Steepness: Climbs Moderately
Tread Condition: Moderately Rough
Blaze Color: Yellow
Trail Number: 117

This trail is located in the Davidson River area. For a list of all the trails in that area, see the Davidson River trails list page.
Description
Provides access to the namesake waterfall after a very short distance on the trail. This segment is kid-friendly (it's very short). Continues uphill, past the falls, to the base of Looking Glass Rock; used mainly for climbing access. Stay away from very slippery rocks near top of falls - animals have frequently slid down this rock and over the falls (with the obvious consequences), giving them their name.
All Photos from the Trail
GPS Map
Download GPS Data
Click routes, trails, or points on the map to download them (on the GPS Data tab).
Total Calculated Length: 0.99 mi
This value is derived from our underlying map data, and it may not match officially published information.