Burnt Mountain Trail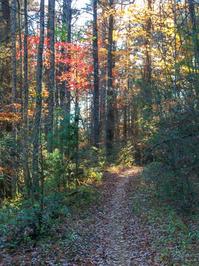 At A Glance




2.20 mi one-way
Difficulty Rating: 2.2


Steepness: Hilly


Tread Condition: Moderately Rough

Description
Southeast end is mostly on an old road bed, high above the Little River at first. Then switches back and climbs up near the nondescript summit of Burnt Mountain, on and off the old road bed. Steeper on northwest end with some rocks & roots.
Intersecting Trails
This trail is located in the Dupont State Forest area. For a list of all the trails in that area, see the Dupont State Forest trails list page.
All Photos from the Trail
GPS Map
Download GPS Data
Click routes, trails, or points on the map to download them (on the GPS Data tab).
Feedback
Ratings
Average Rating: (rated 0 times)
Rate It Now:
Comments