Cedar Rock Trail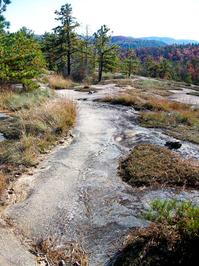 At A Glance




1.43 mi one-way
Difficulty Rating: 1.43 (More Difficult)
Steepness: Hilly
Tread Condition: Moderately Rough

This trail is located in the Dupont State Forest area. For a list of all the trails in that area, see the Dupont State Forest trails list page.
Description
Interesting trail passes over the granitic dome of Cedar Rock Mtn. Although the mountain is small by mountain standards, this trail provides some great views and an interesting environment. There are some rocky sections near the bottom; rest is mostly solid rock with patches of moss and low pine trees on either side of the trail.
All Photos from the Trail
GPS Map
Download GPS Data
Click routes, trails, or points on the map to download them (on the GPS Data tab).
Trail Segments
Trails are often made up of several connecting paths which may have different characteristics, allowed uses, and seasons. This trail is divided into multiple segments as follows:
Cedar Rock - NE
Allowed Uses:
Length: 0.83 mi
Cedar Rock - SW
Allowed Uses:
Length: 0.59 mi
Total Calculated Length: 1.43 mi
This value is derived from our underlying map data, and it may not match officially published information.
Intersecting Trails
Feedback
Ratings
Average Rating: 5.0 (rated 1 times)
Rate It Now:
Comments