Stone Mountain Trail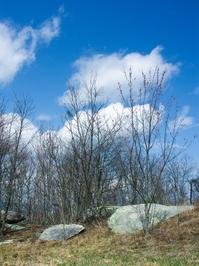 At A Glance


0.97 mi one-way
Difficulty Rating: 0.97


Steepness: Climbs Steeply


Tread Condition: Moderately Rough

Description
Ascends the southwest side of Stone Mountain, the highest point in DuPont State Forest at 3620 ft and a great place to catch a view of the forest 1000 ft below and to the south. Most of the trail follows an old road bed on a moderate grade up to a wildlife clearing on the ridge west of the summit. The road is pretty eroded, rocky in places, and can be wet after rains. Across the meadow (which can get overgrown in summer), pick up the continuation of the trail - now a true footpath - and follow the ridge for about 1/2 mile. The final 1/10 mile to the summit is steep. Once you're up top, you'll forget all about the climb as open rock slabs provide 180 degree views. Slabs farther along the ridge provide slightly different views, so explore the next 1/10 mile or so before returning to the start on the same path.
Intersecting Trails
This trail is located in the Dupont State Forest area. For a list of all the trails in that area, see the Dupont State Forest trails list page.
All Photos from the Trail
GPS Map
Download GPS Data
Click routes, trails, or points on the map to download them (on the GPS Data tab).
Feedback
Ratings
Average Rating: (rated 0 times)
Rate It Now:
Comments