Three Lakes Trail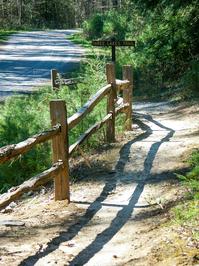 At A Glance




Steepness: Climbs Moderately
Tread Condition: Some Obstacles
Hikes That Use This Trail: Dupont Waterfalls and Lakes Tour

This trail is located in the Dupont State Forest area. For a list of all the trails in that area, see the Dupont State Forest trails list page.
Description
From Lake Dense, the trail follows an old road bed past the picnic shelter, across the dam, and over to Lake Alford. It has moderate grades, and goes through a pine/hemlock forest where many of the hemlocks are dying. There is a great view of Joanna Mountain across the lake. At Lake Alford, the trail goes over the dam to a small pier and resting bench. From Lake Alford, the trail is more of a footpath; it climbs moderately past the spring feeding Lake Alford, then comes out on a ridge above the Lake Julia spillway. There are some limited views of the lake and the spillway. The trail winds back down to Conservation Road just north of the spillway bridge.
Combined with the Pitch Pine trail, this makes a nice bypass of the boring section of Conservation Road from the Covered Bridge area up to the Lake Julia spillway bridge. Or, these trails combined with the road make a nice loop.
All Photos from the Trail
GPS Map
Download GPS Data
Click routes, trails, or points on the map to download them (on the GPS Data tab).
Trail Segments
Trails are often made up of several connecting paths which may have different characteristics, allowed uses, and seasons. This trail is divided into multiple segments as follows:
Three Lakes - Joanna Road to Pitch Pine Tr.
Allowed Uses:
Length: 415 ft
Three Lakes - Lake Alford Spur
Allowed Uses:
Length: 239 ft
Three Lakes - Lake Alford to Conservation Road
Allowed Uses:
Length: 0.41 mi
Three Lakes - Pitch Pine Tr. to Lake Alford
Allowed Uses:
Length: 0.3 mi
Total Calculated Length: 0.84 mi
This value is derived from our underlying map data, and it may not match officially published information.
Intersecting Trails
Feedback
Ratings
Average Rating: (rated 0 times)
Rate It Now:
Comments