Erwins View Trail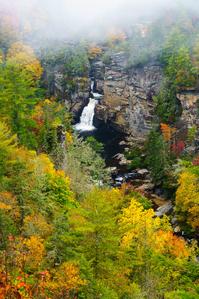 At A Glance


0.8 mi one-way
Difficulty Rating: 0.8 (Moderate)
Steepness: Some Hills
Tread Condition: Some Obstacles
Other Map ID: BRP MP 316.4
Hikes That Use This Trail: Linville Falls - Erwin's View

This trail is located in the Linville Falls area. For a list of all the trails in that area, see the Linville Falls trails list page.
This trail also crosses into these trailhead areas:
Description
This trail travels to four excellent views of the Upper and Lower Falls. The first overlook takes you to the pool at Upper Falls. From this vantage point you can see the river pouring into the narrorw gorge above the lower falls. The second overlook is called Chimney View, and from it you can see both the upper and lower falls. There are some steeper hills along this section of the trail. From the Gorge View Overlook, there is an excellent view downriver into the Linville Gorge. From Erwin's View Overlook, the end of this trail, enjoy a panoramic view of the gorge as well as Linville Falls in the distance.
All Photos from the Trail
GPS Map
Download GPS Data
Click routes, trails, or points on the map to download them (on the GPS Data tab).
Trail Segments
Trails are often made up of several connecting paths which may have different characteristics, allowed uses, and seasons. This trail is divided into multiple segments as follows:
Erwin's View
Allowed Uses:
Length: 0.87 mi
Erwin's View - Chimney View Spur
Allowed Uses:
Length: 206 ft
Erwin's View - Upper Falls Spur
Allowed Uses:
Length: 342 ft
Total Calculated Length: 0.98 mi
This value is derived from our underlying map data, and it may not match officially published information.
Feedback
Ratings
Average Rating: (rated 0 times)
Rate It Now:
Comments