Buckeye Gap Trail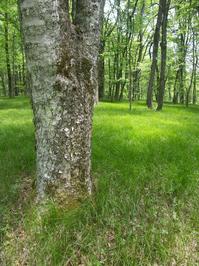 At A Glance


2.85 mi one-way
Difficulty Rating: 2.85 (Most Difficult)
Steepness: Climbs Steeply
Tread Condition: Moderately Rough
Blaze Color: None
Trail Number: 126

This trail is located in the Middle Prong Wilderness area. For a list of all the trails in that area, see the Middle Prong Wilderness trails list page.
Description
From the lower end at jct. with Haywood Gap Trail, the trail climbs steeply up an old logging skid road near Grassy Ridge Branch. The tread is narrow, but generally in good shape and worn well enough to be obvious. The mountainside here is steep and grassy, with mixed northern hardwoods and an occasional spruce or dying hemlock.
The trail crosses Grassy Ridge Branch above and below some small cascades, moderates some, and then climbs again steeply before reaching the top of what must be named Grassy Ridge (even though it's not on any map). Not surprisingly, the ridge is covered in beautiful soft grass - a striking sight when compared to the lush but varied understory common in the area. It then passes through a small clearing. Beyond the clearing, the trail climbs steeply again, with rhododendron and red spruce becoming more common as you ascend.
The trail eventually reaches an old railroad grade and makes a sharp right-hand turn. From there, the grade is gentle, but the tread is a bit rockier (and you have to negotiate some old railroad ties too). There are stands of large red spruce, and some openings where smooth blackberries are overgrowing the trail. There are a few fair views to the West back into the Middle Prong Wilderness. The trail ends where the the Mountains to Sea Trail joins in with the old railroad grade. Straight ahead, the old railroad goes all the way back to connect with the Blue Ridge Parkway at Buckeye Gap.
All Photos from the Trail
GPS Map
Download GPS Data
Click routes, trails, or points on the map to download them (on the GPS Data tab).
Total Calculated Length: 2.81 mi
This value is derived from our underlying map data, and it may not match officially published information.