Haywood Gap Trail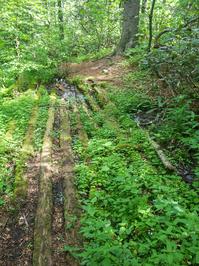 At A Glance


5.8 mi one-way
Difficulty Rating: 5.8 (Most Difficult)
Steepness: Climbs Steeply
Tread Condition: Very Rough
Blaze Color: None
Trail Number: 142

This trail is located in the Middle Prong Wilderness area. For a list of all the trails in that area, see the Middle Prong Wilderness trails list page.
This trail also crosses into these trailhead areas:
Description
Starting at FR 97, Haywood Gap Trail climbs alongside the Middle Prong of the West Fork of the Pigeon River all the way up to the Mountains to Sea Trail about 75 yards from where it crosses the Blue Ridge Parkway at Haywood Gap. Parts of the trail follows old logging road or railroad beds; parts are purpose-built path.
The upper end of the trail is steep in places, with several tricky areas to negotiate. Although most of the tread is in great condition, a few places are definitely not, warranting the Very Rough rating. A crossing of Haywood Gap Stream may be impossible in high water, or at least a wade (at most times it should be an easy rock-hop, however). There are relics from the logging era, including rusting steel cables and some old puncheon bridge sections that have almost completely collapsed but are still quite visible. The trail travels from a cove hardwood forest, to a high-elevation hardwood forest and a few Red Spruces & Fraser Firs gradually mix in as you go up.
All Photos from the Trail
GPS Map
Download GPS Data
Click routes, trails, or points on the map to download them (on the GPS Data tab).
Total Calculated Length: 3.88 mi
This value is derived from our underlying map data, and it may not match officially published information.