Bad Fork Trail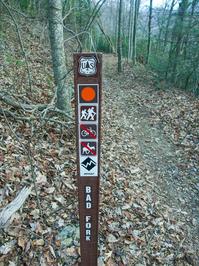 At A Glance


2 mi one-way
Difficulty Rating: 2 (More Difficult)
Steepness: Climbs Moderately
Tread Condition: Some Obstacles
Blaze Color: Orange
Trail Number: 323

This trail is located in the Mills River area. For a list of all the trails in that area, see the Mills River trails list page.
This trail also crosses into these trailhead areas:
Description
Climbing from Wash Creek Road uphill, the trail follows the ever-diminishing namesake stream along an old road bed, crossing it after a short distance. The forest is a typical cove hardwood variety with plenty of rhododendron and both healthy and dead/dying hemlock. Several tributary streams flow under the trail from side coves. About 3/4 of the way up the cove, the trail swings right, leaves the road bed, and goes straight up the ridge through an oak-dominated forest on a series of log steps, and then on a haphazard path up to a flatter area where it picks up another old road bed. It follows this a short distance farther, through drier woods where some shortleaf pines grow, to the terminus at the Bent Creek Gap Forest Service access road and the Blue Ridge Parkway.
All Photos from the Trail
GPS Map
Download GPS Data
Click routes, trails, or points on the map to download them (on the GPS Data tab).
Total Calculated Length: 1.78 mi
This value is derived from our underlying map data, and it may not match officially published information.