Pilot Cove Loop Trail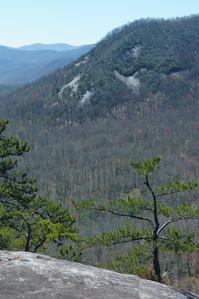 At A Glance



1.8 mi one-way
Difficulty Rating: 1.8 (Moderate)
Steepness: Climbs Moderately
Tread Condition: Some Obstacles
Blaze Color: Yellow
Trail Number: 320A

This trail is located in the Mills River area. For a list of all the trails in that area, see the Mills River trails list page.
Description
In what could be one of the most bizarre naming situations in all of Pisgah, this trail is neither in a cove nor is it a loop. Rather, the best reasoning I can come up with for its name is that this ridge-top trail enables you to hike a loop above Pilot Cove, when combined with the Pilot Cove-Slate Rock trail, which itself does not lead to Slate Rock (because this trail does), but that trail does pass through Slate Rock Cove...
Sigh.
Nevertheless, this trail starts on the Pilot Cove-Slate Rock Trail in Pilot Cove not far from the trailhead on FS 1206. It climbs gradually at first, then more steeply as it switchbacks a few times to pick up the top of Forked Ridge. After leaving the creek, it is relatively dry. The trail follows a ridge to the trail's end, through short, gnarled forest trees and thickets of twisted mountain laurel. When you pop out of the forest onto Slate Rock itself, you'll know it, as an expansive view opens up to the southwest, across Pilot Rock Ridge up to the Pisgah Ridge, and down into the Pink Beds and Cradle of Forestry area. Of course, you also have a view of Pilot Mountain in the distance, as if there aren't enough things named Pilot in this area. After a few switchbacks beyond Slate Rock, you'll be on Slate Rock Ridge until the end of the trail. The loop formed by this trail and Pilot Cove-Slate Rock is one of the finest in Pisgah.
If I were the Forest Service, which I'm not, but just bear with me here -- I would rename the entire loop of trail in Pilot Cove (including this one) Pilot Cove Loop, and the one in the next cove over Slate Rock Creek. Much simpler.
All Photos from the Trail
GPS Map
Download GPS Data
Click routes, trails, or points on the map to download them (on the GPS Data tab).
Total Calculated Length: 2.05 mi
This value is derived from our underlying map data, and it may not match officially published information.