Pilot Cove - Slate Rock Trail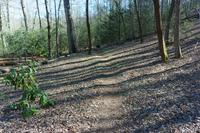 At A Glance



4.3 mi one-way
Difficulty Rating: 4.3 (Moderate)
Steepness: Climbs Steeply
Tread Condition: Moderately Rough
Blaze Color: Blue
Trail Number: 320

This trail is located in the Mills River area. For a list of all the trails in that area, see the Mills River trails list page.
Description
Starting at the eastern end, this trail begins by following Slate Rock Creek. This is an easy to moderate grade with several stream crossings. Slate Rock Creek is typical of mountain streams, with small cascades and an abundance of mosses and ferns. In the summer, wildflowers are prolific. Before the last creek crossing, there is an unofficial trail leading right to join with Laurel Mountain trail at Sassafras Gap. The trail then leaves Slate Rock Creek after almost 3 miles and climbs up Slate Rock Ridge. Here, at the gap, the Pilot Cove Loop (#320A) intersects to the left. Continue straight ahead for a steep descent to Pilot Cove. You will pass through some open grassy fields before crossing the creek. The trail loops away from the stream for approximately ¼ mile (in deference to a former beaver pond, now only a boggy area), before crossing and paralleling it again. Shortly thereafter you will pass the other end of Pilot Cove Loop, and then return to FS 1206. A left turn onto the road will take you back to the eastern trailhead in 1.5 miles.
This trail is often combined with the Pilot Cove Loop to make a fantastic loop hike along Slate Rock Ridge and through Pilot Cove.
All Photos from the Trail
GPS Map
Download GPS Data
Click routes, trails, or points on the map to download them (on the GPS Data tab).
Total Calculated Length: 4.34 mi
This value is derived from our underlying map data, and it may not match officially published information.