Pilot Rock Trail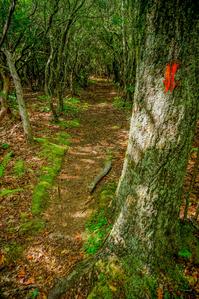 At A Glance



3.6 mi one-way
Difficulty Rating: 3.6


Steepness: Climbs Steeply


Tread Condition: Moderately Rough


Blaze Color: Orange
Trail Number: 321

Description
Climbs somewhat steeply from Yellow Gap Road (FR 1206) up to the Buck Spring/Mountains to Sea trail near Mount Pisgah on the Parkway. Initially crosses a creek, then climbs through a cove forest gradually getting farther from it. Passes through many switchbacks along the way to the top of the dry ridge, some of which are engineered with dry-stacked rock walls and cobblestone fill. You'll also pass through natural block fields, resulting from the shedding of rocks and boulders from cliffs high up above.
An official spur trail leads to the base of Pilot Rock - the largest outcrop for which this trail is named - primarily for climbers. Other unofficial spurs lead to the top of Pilot Rock and nearby rock outcrops, providing spectacular views. Mid- and high-elevation mixed hardwood forests and northern hardwood forests start to take over as you climb, and the trail winds through thickets of twisted mountain laurel.
Beyond the Laurel Mountain Connector, passes through a dead stand of beech trees before reaching the open, grassy summit of Little Bald Mountain, 1900' above the trail's start at Yellow Gap Road. It will be noticeably cooler at the top than the bottom most days. The trail then descends a short distance down the north slope to reach the Mountains to Sea/Shut-In trail at its end.
Overall, this is an excellent trail which can be combined with others in the area - including Laurel Mountain and Thompson Creek - for loop hikes.
Intersecting Trails
This trail is located in the Mills River area. For a list of all the trails in that area, see the Mills River trails list page.
This trail also crosses into these trailhead areas:
All Photos from the Trail
GPS Map
Download GPS Data
Click routes, trails, or points on the map to download them (on the GPS Data tab).
Trail Segments
Trails are often made up of several connecting paths which may have different characteristics, allowed uses, and seasons. This trail is divided into multiple segments as follows:
Pilot Rock - BRP Boundary to MST
Allowed Uses: Hiking
Length: 0.42 mi
Pilot Rock - Thompson Creek to BRP Boundary
Allowed Uses: Hiking, Mountain Biking
Length: 0.34 mi
Pilot Rock - Laurel Mt. Connector to Thompson Creek
Allowed Uses: Hiking, Mountain Biking
Length: 0.13 mi
Pilot Rock - FS 1206 to Laurel Mt. Connector
Allowed Uses: Hiking, Mountain Biking
Length: 2.29 mi
Total Calculated Length: 3.18 mi
This value is derived from our underlying map data, and it may not match officially published information.
Feedback
Ratings
Average Rating: (rated 0 times)
Rate It Now:
Comments