Hickey Fork Trail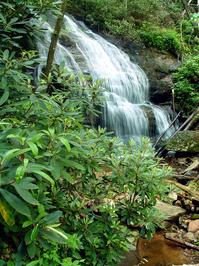 At A Glance


2.3 mi one-way
Difficulty Rating: 2.3


Steepness: Climbs Steeply


Tread Condition: Moderately Rough


Blaze Color: Yellow
Trail Number: 292

Description
The Hickey Fork trail travels through the Shelton Laurel Backcountry Area. It should be treated as such; only those experienced in wilderness travel should attempt to hike all of it. More casual hikers will enjoy an out-and-back trip to the falls on Hickey Fork without much trouble, though. The trail is well-blazed, but it is heavily overgrown - and in the summer a lot of the overgrowth is stinging nettle. Do wear long pants!
Beginning on Hickey Fork Road, the trail crosses the East Prong of Hickey Fork Creek on a sturdy log bridge. It then follows the creek upstream for a short distance before curving back and ascending the ridge on the opposite side. It's a moderate grade in a forest of dead and dying hemlocks and an understory of mostly rhododendron. The trail rounds the ridge, descends to cross a tributary on stepping stones and then moves down the tributary into the West Prong valley. The trail veers right just above the valley floor, then comes to a crossing of the main stem of the creek. This crossing should nearly always be possible except in very high water, though you may get your feet wet.
The trail then meanders through a level area, heading upstream, before beginning to climb sidehill. A couple of small tributary branches are crossed here and the level course gives way to a steady climb. At one point, a large rock juts out over the valley just to the right of the trail. The entire route is lined with rhododendron and doghobble, and most of the understory hemlocks are dead (though a few taller ones still survive as of January 2014).
Just past the overhanging rock, the trail joins with and follows a tributary stream uphill for a few feet - look for log steps where it emerges on the right. Hickey Fork drops away in the valley below as you climb, before coming back to meet you again at the top of a very long waterslide and cascade below the main falls. You then pass proper waterfall - a very nice place to stop and enjoy the scenery. A steep scramble path leads to the base of the falls. This is where most people turn around, although the trail continues.
Beyond the falls, the trail climbs moderately on a very steep slope beside the creek, and in a couple of places the tread is dangerously close to some small soil cliffs, formed by the creek eroding its banks up to the trail. You will cross an old landslide scar at one point. The trail will cross a tributary and then curve left, following it uphill on the right. Here the trail becomes extremely steep. The tributary fades away as you climb and you will pass into a more open woods of mostly oak and maple. Finally, the climb relents (but only slightly) as grade-reducing switchbacks were introduced near the top. The trail curves through an open cove head before switching back left and emerging on the (former?) Pounding Mill trail at Seng Gap.
According to the latest USFS data, the Pounding Mill trail to the left of this intersection has been decommissioned, and the entire route to the right and up to the Appalachian Trail is now called the Hickey Fork trail.
Continuing past the top of the former end of the Hickey Fork trail, this portion is used as a 4-wheeler trail, so it's double-tracked. It's moderately steep in places and rocky throughout. Travels along some dry ridge slopes, ridge tops, and finally above 4000 ft into some high-elevation coves. The trail switches back and becomes level near the top, meandering through the dense woods, which are orchard-like in places. It is heavily overgrown with grasses and blackberry vines in some spots, too.
Another steep climb brings you to the intersection with the Appalachian Trail, and straight ahead through the intersection, a moderate climb brings you to the top of Camp Creek Bald, elevation 4844 ft. There is a conglomeration of radio towers and an old fire tower at the true summit. You can climb the steps of the fire tower for a better view, although the observation platform is closed.
Intersecting Trails
This trail is located in the Shelton Laurel Backcountry & Camp Creek Bald area. For a list of all the trails in that area, see the Shelton Laurel Backcountry & Camp Creek Bald trails list page.
All Photos from the Trail
GPS Map
Map Information
Download GPS Data
Click on a route, trail, or point on the map and select the GPS Data tab to download its data.
Data Formats
KML (Google Earth)
KML is the main file type used by Google Earth. If you have Google Earth installed, clicking the KML link should open the trail or point directly in Google Earth for viewing. This is the native file format used by Google Earth, but many other map applications can use and understand KML as well, so if you're not sure which one to download, KML is a good bet.
GPX
The GPX format stands for GPS Exchange - a free, open, XML format for exchanging GPS and map data. GPX is compatible with Google Earth, many other mapping programs, and most GPS devices (such as Garmin). Load the file directly into your GPS to help find your way on your next trip!
GeoJSON
GeoJSON is a newer, lightweight data exchange format which can be used to quickly share map data and may have a smaller size than KML or GPX. Many professional mapping and GIS applications support the GeoJSON format.
About the Map
Copyright
Base Layers
Base layers provided by OpenStreetMap, the US Geological Survey, the US Forest Service, and NC OneMap. Base layer images are subject to the respective copyright policies of their owners. Base layers may not be available at all times due to system maintenance or outages.
WNCOutdoors Base Layer
The WNCOutdoors Base layer is provided by WNCOutdoors.info. It is licensed by Creative Commons Attribution 3.0.
Trail and Marker Overlays
Trail layers and downloadable data are all original works created by WNCOutdoors with guidance from a variety of sources, including ensembles of our own GPS tracks, user contributed GPS tracks, official maps and GIS data from government agencies, and field observations. WNCOutdoors data is made freely available under the Open Database License - you are free to copy and use it for any purpose under the terms of that license (summary).
Tips
Hover over a trail to see it highlighted. Helps to see start and end points for an individual trail.
Scroll and zoom the map before printing, and that view will persist into the printed image.
Click a trail for more details and to download it individually.
Trail Segments
Trails are often made up of several connecting paths which may have different characteristics, allowed uses, and seasons. This trail is divided into multiple segments as follows:
Hickey Fork - To Falls
Allowed Uses: Hiking
Length: 1.2 mi
Hickey Fork - Falls To Top
Allowed Uses: Hiking
Length: 0.98 mi
Pounding Mill - Hickey Fork - to White Oak Trail
Allowed Uses: Hiking
Length: 0.65 mi
Pounding Mill - Hickey Fork - White Oak Trail to Appalachian Trail
Allowed Uses: Hiking
Length: 1.7 mi
Pounding Mill - Appalachian Trail to Camp Creek Bald
Allowed Uses: Hiking
Length: 0.16 mi
Total Calculated Length: 4.69 mi
This value is derived from our underlying map data, and it may not match officially published information.
Feedback
Ratings
Average Rating: 3.8 (rated 5 times)
Rate It Now:
Comments