Upper Creek Falls Trail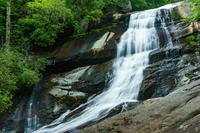 At A Glance


1.6 mi one-way
Difficulty Rating: 1.6


Steepness: Climbs Moderately


Tread Condition: Moderately Rough


Trail Number: 268B

Description
Loop trail; from the parking lot going clockwise, it switchbacks down to the creek just above the top of the falls and crosses. Be careful here; it will be impossible during high water. The trail then descends alongside the falls with a few views of it, then crosses again below the bottom of the falls. It's a beautiful waterfall, but difficult to see all of it from one spot. The trail then climbs back up through more switchbacks, going under a large, neat rock overhang at one point.
This trail is located in the Wilson Creek Area area. For a list of all the trails in that area, see the Wilson Creek Area trails list page.
All Photos from the Trail
GPS Map
Download GPS Data
Click routes, trails, or points on the map to download them (on the GPS Data tab).
Feedback
Ratings
Average Rating: 5.0 (rated 1 times)
Rate It Now:
Comments