The Wilson Creek Area
Overview
Wilson Creek was designated as a National Wild and Scenic River by Congress on August 18, 2000, after years of support from local governments and environmentalist groups. As a result, this river has become the centerpoint for a visit to the Grandfather Ranger District, so named for Grandfather Mountain, the highest point in the district and on the Blue Ridge at 5964 ft. elevation.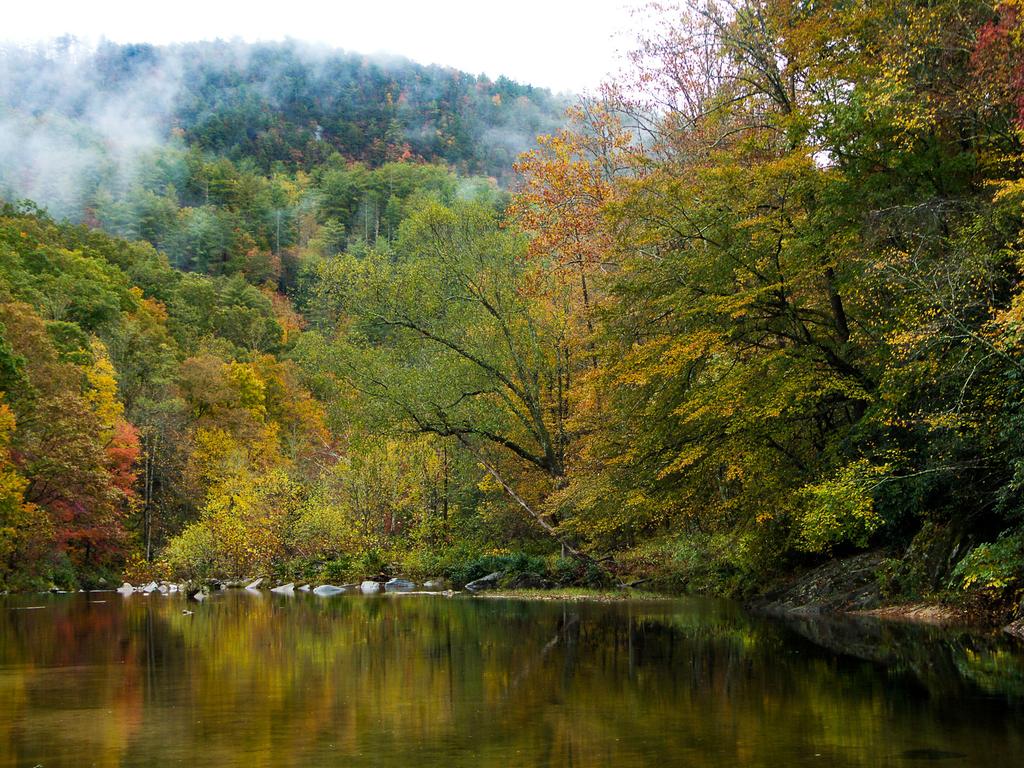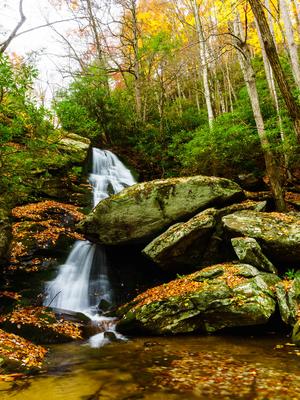 Grandfather Mountain is also the headwaters for this beautiful stream. While Forest Service lands in this part of the district are somewhat fragmented, it is threaded with state and forest service roads leading to dozens of trails, which lead to scenic waterfalls, river gorges, and clifftop vistas.
For the purposes of this site, the Wilson Creek trailhead area includes all National Forest lands between the Upper Creek drainage, the Blue Ridge Parkway, US Hwy. 321, and the Piedmont. This roughly diamond-shaped area is draped across the Blue Ridge Escarpment between the Piedmont and the high peaks along the Parkway. This area includes Wilson Creek itself as well as trails around the streams north and south of Wilson Creek draining the Blue Ridge.
A new visitor information center, opened in October 2002, is located on Brown Mountain Beach Road upstream of the Gorge section of Wilson Creek. You will want to stop in here and buy or at least look at one of the maps for the area.
---
Hiking Trails
The trail network in the area is fairly extensive, but it is disjointed in places. A good network of trails exists centered around the Harper Creek area, and loop options are available elsewhere in the watershed.
One of the most popular trails in the area, the Harper Creek trail, takes visitors along its eponymous waterway to a beautiful waterfall, also with the same name. Though the hike to the waterfall is easy, it's a long trail, and traffic drops off dramatically beyond the waterfall as it takes on more wilderness characteristics. This trail, combined with the Raider Camp, North Harper Creek, Yellow Buck, and Mountains to Sea trails can be joined up to form a few loop hiking opportunities in this area, all of which are on the difficult side.
A nice, more moderate loop hike can be made out of the North Harper Creek, North Harper Creek Falls, and Little Lost Cove Cliffs trails, along with a section of Pineola Road (FS 464), and it includes a beautiful waterfall.
---
Some Featured Trails in the Wilson Creek Area
---
The Hunt-Fish Falls trail can be used alone to reach (you guessed it) Hunt-Fish Falls, or it can be used as the start of a longer hike which includes Lost Cove and/or Timber Ridge trails to form tough backcountry loop hikes. The area beyond the falls is under consideration for wilderness status.
The first part of Thorps Creek trail leads to a waterfall with - again - the same name, or you can hike the entire loop if you've got the time and energy.
Finally, a few of the trails are on their own, starting at a road and going to a dead-end or another road, but some of them aren't to be missed. It might be tempting to make these additions when you're looking for something else to do after a longer hike, but most of them could stand as their own hikes (especially for family hikes).
Big Lost Cove Cliffs is one such trail, and the view at the end (of Grandfather Mountain) is fantastic. Darkside Cliffs is shorter, but offers nice views more toward the east. Meanwhile, Upper Creek Falls is short but steep, and you'll undoubtedly want to hang out at the falls for a while when you see them. Wilson Ridge is a long, ambling trail which is a converted road, used primarily by mountain bikers.
Gravel or dirt forest roads can be used to extend your hike options, as you'll need to do to reach this beauty:
Keep in mind that some of the longer trails travel through areas that are designated backcountry or even under consideration for wilderness, so for the most part, compass-and-map carrying is a must. They may not be blazed or signed, and the tread may be in bad shape.
This is just an overview of the trails available in the Wilson Creek area. For all the details, visit the Wilson Creek Trails page.
---
Map
Here's a map of the Wilson Creek area. For more maps, including printed publications, see our Wilson Creek maps page.
Map Information
Download GPS Data
Click on a route, trail, or point on the map and select the GPS Data tab to download its data.
Data Formats
KML (Google Earth)
KML is the main file type used by Google Earth. If you have Google Earth installed, clicking the KML link should open the trail or point directly in Google Earth for viewing. This is the native file format used by Google Earth, but many other map applications can use and understand KML as well, so if you're not sure which one to download, KML is a good bet.
GPX
The GPX format stands for GPS Exchange - a free, open, XML format for exchanging GPS and map data. GPX is compatible with Google Earth, many other mapping programs, and most GPS devices (such as Garmin). Load the file directly into your GPS to help find your way on your next trip!
GeoJSON
GeoJSON is a newer, lightweight data exchange format which can be used to quickly share map data and may have a smaller size than KML or GPX. Many professional mapping and GIS applications support the GeoJSON format.
About the Map
Copyright
Base Layers
Base layers provided by OpenStreetMap, the US Geological Survey, the US Forest Service, and NC OneMap. Base layer images are subject to the respective copyright policies of their owners. Base layers may not be available at all times due to system maintenance or outages.
WNCOutdoors Base Layer
The WNCOutdoors Base layer is provided by WNCOutdoors.info. It is licensed by Creative Commons Attribution 3.0.
Trail and Marker Overlays
Trail layers and downloadable data are all original works created by WNCOutdoors with guidance from a variety of sources, including ensembles of our own GPS tracks, user contributed GPS tracks, official maps and GIS data from government agencies, and field observations. WNCOutdoors data is made freely available under the Open Database License - you are free to copy and use it for any purpose under the terms of that license (summary).
Tips
Hover over a trail to see it highlighted. Helps to see start and end points for an individual trail.
Scroll and zoom the map before printing, and that view will persist into the printed image.
Click a trail for more details and to download it individually.
---
Places to Stay
Camping
Backcountry camping is allowed on most areas of the National Forest. Standard rules apply. However, camping is NOT allowed within 500 feet of Wilson Creek itself due to the Wild and Scenic designation.
Mortimer Campground
Developed camping is available at the Mortimer Campground, open from April 1st to October 31st. There are now just 11 sites for tents and small trailers in the campground. There used to be 23 sites, but 12 of them were closed in April 2012 due to a potential risk of flash flooding.
Fire rings, picnic tables, and 2 bathhouses with flushing toilets and showers are available at the campground. The fee is $17.00 per night. Trails start within the campground itself and it is centrally located, so it makes an excellent base from which to explore the entire Wilson Creek and Grandfather Ranger District area. Get here early, as these few sites will fill up fast!
Hopefully, the Forest Service will consider adding some more sites to this area in the future to make up for the sites lost due to flood risk.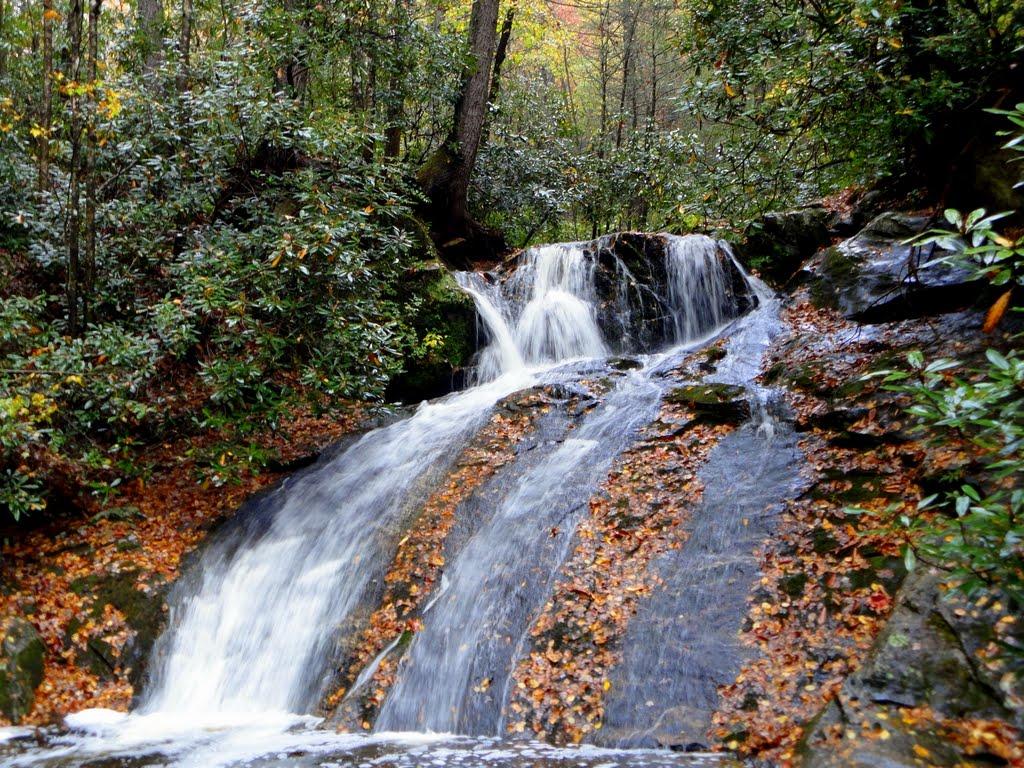 Lodging
To request that your place of lodging be listed on this site, please contact us.
---
Directions
There are various ways to get to the Wilson Creek area. These directions are for the Wilson Creek Visitor Center. Further directions to various hikes and trails will start at the visitor center.
From Asheville:
Take I-240 East to I-40 East through Black Mountain and down the mountain to Morganton. Take Exit 100 (Jamestown Rd.). Turn left at the end of the ramp. At the third traffic light, turn left onto NC 181 north. Follow 181 for about 12 miles to Brown Mtn. Beach Rd., at a church, and turn right. Go about 5 miles; just past a bridge over Wilson Creek (which looks like a small river) turn left to stay on Brown Mtn. Beach Rd. (There is a sign for the Pisgah National Forest Mortimer Campground.) You will follow Wilson Creek through the settlement of Brown Mountain Beach, then into its beautiful Gorge section, and the visitor center is on the left approximately 5.5 miles past the left turn.
---
Links
Wilson Creek Wild and Scenic River on NPS.gov
Friends of Wilson Creek