Toms Creek Falls Hike
This easy hike is excellent for families and children, with a reward at the end that everyone will look forward to. It's short enough that adults who have to carry tired kids won't be too worn out at the end to enjoy it themselves. The waterfall isn't the only thing to enjoy on this trail, however. You'll see a lush cove hardwood forest with smaller streams, a bridge, huge boulders, and flakes of shiny mica. Kids will love the small pool at the base of the 60-foot falls which is perfect for wading. During the spring, there are a wide variety of wildflowers to see and photograph.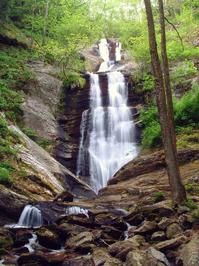 At A Glance

0.8 mi round-trip
Difficulty Rating: 0.99


Tread Condition: Graveled


Climb: Climbs Gently


Lowest Elevation: 2000 ft
Highest Elevation: 2001 ft
Climb Total: 120 ft
Configuration: Out-and-back
Starting Point: Parking area just before bridge on Huskins Branch Road, about 8 miles from Marion, NC.

Trails Used: Falls Branch
Directions
From the intersection of US 70 and US 221 North in Marion, NC, drive about 5 1/2 miles North on US 221. Turn left on Huskins Branch Road, just before the old Woodlawn Motel. The road climbs and turns gravel, then paved again. At 1.2 miles from the start, park in the gravel lot on the right.
Details
Hike Description
This hike starts in an old field or homestead, as evidenced by the even-aged stand of Tuliptrees that grow there, as well as the patch of prolific, non-native flowers to the left of the trail sign. The trail follows an old road bed most of the way, and it is easy. It has a surface of hard-packed sand and crushed gravel. Creek crossings are by bridge or culvert. And except for a short hill right at the very end, the trail ascends very gently.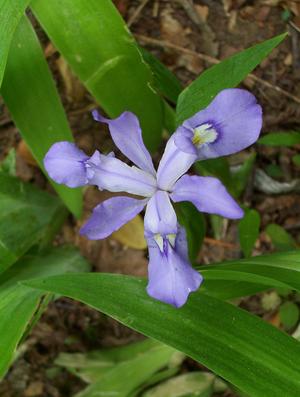 The forest is a typical mixed cove hardwood forest. A variety of wildflowers grow here in the spring. There are also a number of eastern hemlocks mixed in with the hardwood trees, some of which are surviving despite the Hemlock Wooly Adelgid infestation present in this section of the forest. These trees may have been treated with insecticides to keep them alive. This presents an opportunity to see what intact hemlock-filled coves once looked like all across the southern Appalachian mountains, a scene which has gradually disappeared in the first two decades of the twenty-first century.
Just after you start the hike, you'll see a grand boulder on your right like a sentinel guarding the waterfall's valley. There are many of these boulders and angled rock slabs along the way, and most of them are covered with moss and lichens. Look closely at one of these rocks, and you will likely see lots of embedded mica. Mica is a group of silicate minerals composed of varying amounts of aluminum, potassium, magnesium, iron and - believe it or not - water. In fact, most rocks and minerals contain trace amounts of water, even deep within.
Micas form flat, plate-like crystals which cleave into smooth flakes. Look in the soil beside the trail for these flakes, which shine and glint in the sun. Mica is used as an electrical insulator and also as an insulator from heat. Up the mountain and across the Blue Ridge Parkway from this point is the town of Micaville, where mica is mined extensively and used all over the world. There is also an old mica mine just downstream from Toms Creek Falls, which you will see near the end of the hike.
The trail loosely follows the creek. A small stream will cross the path under a bridge, and at this point the old roadbed heads up the ridge to the right (but you may not even see it). Shortly beyond the bridge is a short climb through a series of switchbacks, and then the trail approaches the falls.
The trail ends at a sturdy observation deck overlooking the approximately 60-foot high falls and a smaller cascade just in front of it. A large boulder sits to the right of the cascade, framing the falls.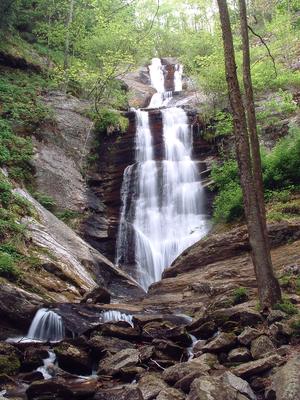 To the right, just before the observation deck, is a path that splits off up a set of steps made out of roots. It leads a few feet to a former campsite with a fantastic view of the falls. You can descend the bank to the base of the falls from there, where there is a nice flat area, a gravel and sand bar, and pools that are great for wading. Be careful on slippery rocks!
To see the old mica mine, cross the creek below the falls. A trail leads downstream on the other side of the creek for a few feet, then turns into a large gully cut into the mountainside. Follow this gully uphill for a few more feet to the entrance of the old mine tunnel leading downhill and into the mountainside. The walls of the gully tower 50 ft above you on both sides. A vertical shaft leading into the tunnel leaves an "unnatural bridge" of sorts hanging in midair above you. Water drips from above, and the tunnel is filled with water.
Although the tunnel is not vertical, so you don't have to worry about falling straight in, don't enter the water. It looks to be very deep. There may be the possibility of falling rock as well - especially during freezing and thawing weather. Be very alert and careful in this area.
When you're finished exploring the falls and mine, return to your vehicle on the same path.
All Photos from This Hike
Map
Green highlight indicates the route to follow within the trail network for this hike.
Tip: Printing this map? You can pan and zoom the map as desired before printing to show the area you need.
Map Information
Download GPS Data
Click on a route, trail, or point on the map and select the GPS Data tab to download its data.
Data Formats
KML (Google Earth)
KML is the main file type used by Google Earth. If you have Google Earth installed, clicking the KML link should open the trail or point directly in Google Earth for viewing. This is the native file format used by Google Earth, but many other map applications can use and understand KML as well, so if you're not sure which one to download, KML is a good bet.
GPX
The GPX format stands for GPS Exchange - a free, open, XML format for exchanging GPS and map data. GPX is compatible with Google Earth, many other mapping programs, and most GPS devices (such as Garmin). Load the file directly into your GPS to help find your way on your next trip!
GeoJSON
GeoJSON is a newer, lightweight data exchange format which can be used to quickly share map data and may have a smaller size than KML or GPX. Many professional mapping and GIS applications support the GeoJSON format.
About the Map
Copyright
Base Layers
Base layers provided by OpenStreetMap, the US Geological Survey, the US Forest Service, and NC OneMap. Base layer images are subject to the respective copyright policies of their owners. Base layers may not be available at all times due to system maintenance or outages.
WNCOutdoors Base Layer
The WNCOutdoors Base layer is provided by WNCOutdoors.info. It is licensed by Creative Commons Attribution 3.0.
Trail and Marker Overlays
Trail layers and downloadable data are all original works created by WNCOutdoors with guidance from a variety of sources, including ensembles of our own GPS tracks, user contributed GPS tracks, official maps and GIS data from government agencies, and field observations. WNCOutdoors data is made freely available under the Open Database License - you are free to copy and use it for any purpose under the terms of that license (summary).
Tips
Hover over a trail to see it highlighted. Helps to see start and end points for an individual trail.
Scroll and zoom the map before printing, and that view will persist into the printed image.
Click a trail for more details and to download it individually.