Green Knob Hike
This hike takes you along the Mountains to Sea Trail in a remote section of the Pisgah National Forest. The entire hike is above 5000 ft in elevation, and you'll explore forests of oaks, birches, beeches, spruces and firs. You'll cross the headwaters of clear, cold mountain creeks and have a distant view of a high, thin, unnamed waterfall. You'll travel through rocky heath balds as well as grassy balds and patches of blueberries. Atop Green Knob, a spectacular view of the Flat Laurel Creek valley and Sam Knob awaits. If you're looking for solitude, hike to Green Knob!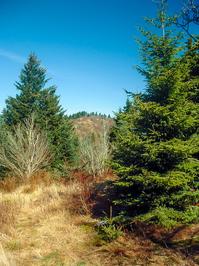 At A Glance

9 mi round-trip
Difficulty Rating: 12.01 (More Difficult)
Tread Condition: Some Obstacles
Climb: Hilly
Lowest Elevation: 5080
Highest Elevation: 5900
Total Elevation Gain: 1200
Configuration: Out-and-back
Starting Point: Mountains to Sea Trail access along NC 215, just north of the Blue Ridge Parkway

Trails Used: Green Mountain, Mountains to Sea Section 2
Directions
From Asheville, take I-40 west to NC 215 in Canton. Follow NC 215 South through Canton (follow signs, there are several turns). Continue on NC 215, past Lake Logan, and up the West Fork Pigeon River valley, to the parking area just before the Parkway on the right.
Alternate Route: Travel the Parkway south from Asheville, and exit on NC 215. Turn left; the parking area is just down the road on the left.
Details
Hike Description
Important: This hike is rated as More Difficult on the basis of climbing and tread surface alone. If you are not experienced with Wilderness travel, consider it Most Difficult.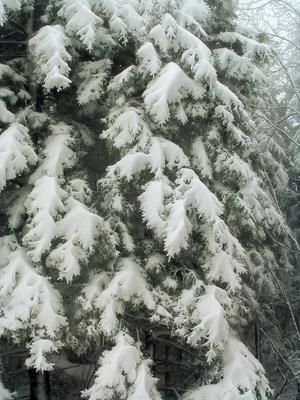 It is essential to have a map and a compass and survival supplies for hikes in the Wilderness, especially at these high, exposed altitudes. No signs or blazes are available to guide you. Although it is fairly easy to follow this particular trail, grassy openings can make it nearly impossible to navigate when it is foggy or the trail is snow-covered, so hike this trail on a sunny day! Also, the trail runs along the tops of some cliff in places on Fork Ridge, so take precautions against falls.
The hike starts out on the Mountains to Sea Trail, on the same side of the road as the parking area. It's on the right if you came up 215 from Canton, and on the left if you came down from the Parkway. Begin hiking downhill in a northerly direction.
Very shortly, you'll reach a significant stream crossing (Bubbling Spring Branch). If the water is high, cross on the road just to your right and return to the trail to stay dry. Then, the trail enters a cool, high-elevation forest of mostly birch trees. You'll also encounter beeches, maples, Mountain Ash, Red spruce, and Fraser fir.
Some large, healthy examples of both Fraser Fir and Red Spruce can be found on this hike. Seeing them is encouraging since this forest type is under siege from several fronts: logging, invading insects, acid rain, and perhaps even a warming climate are all taking their toll on this rare ecosystem. Tree mortality in this area seems to be (for now) lower than average for this type of forest. You'll also find the essential Rhododendrons, Mountain Laurels, and dense thickets of Blueberries along the trail.
The entire hike will basically consist of this type of forest, and your altitude will increase from just above 5000 ft to just below 6000 ft. Before long, the trail will pick up on an old road or probably railroad bed, and begin a steady climb uphill.
You'll pass through the first and largest of the many grassy, open meadows found on this hike. This one is kept open by mowing; the rest are gradually becoming overgrown.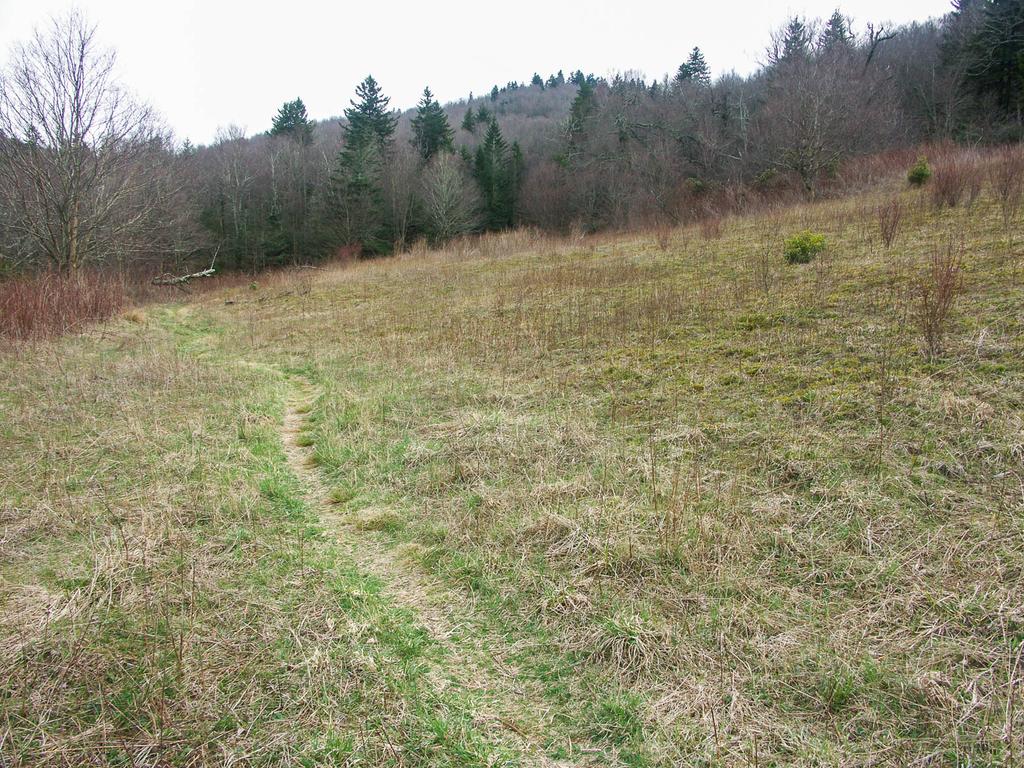 Beyond the big meadow, the trail wraps around the ridge and start heading south. It begins following an apparently unnamed stream gently uphill. The trail gradually gets closer to the stream, and it gets loud enough that it sounds like there may be a waterfall on the stream somewhere far below you. I haven't investigated to confirm this, however.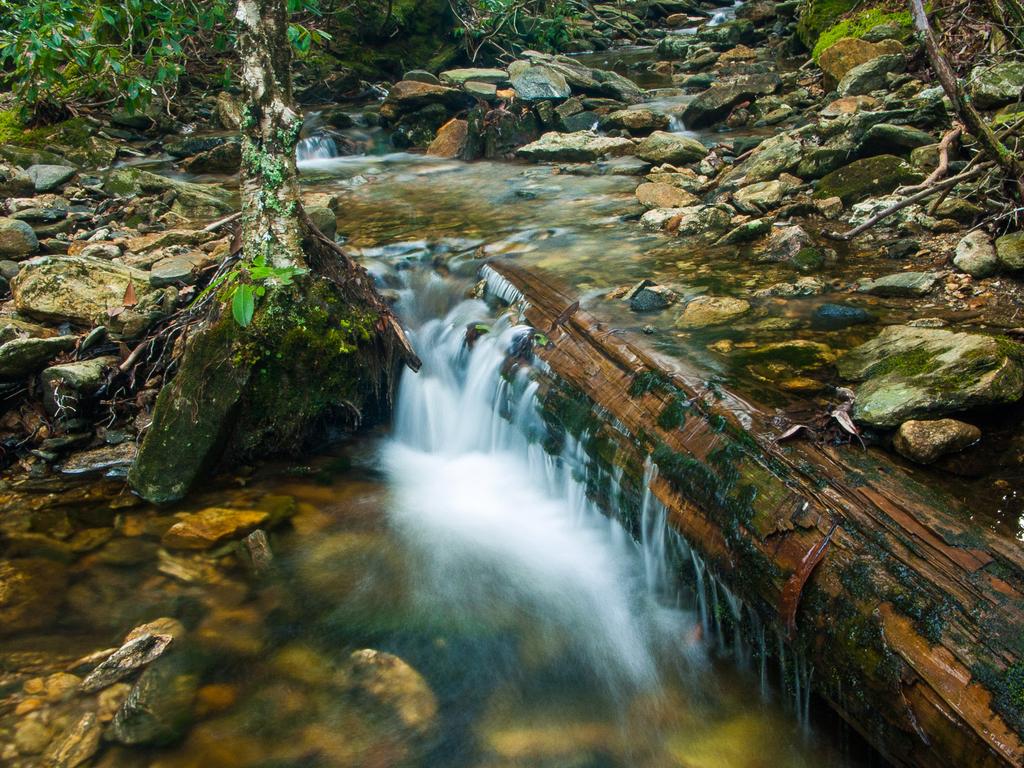 The road will eventually cross the stream right where two forks of it come together. You'll pass onto the spit of land between the two creeks and begin following the right fork upstream. Then the creek turns right, out of sight, into the rhododendron thicket. Not far uphill from that thicket is a significant waterfall, sometimes called Mount Hardy Falls. You'll enjoy a great view of it shortly!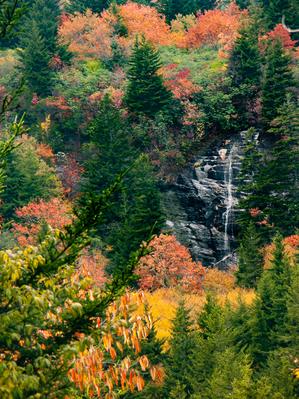 The trail curves left, becomes rather mushy, and crosses the left fork of the stream. It then begins angling up a low, broad ridge. After a few hundred yards, an opening in the trees presents a view of Mount Hardy Falls, which only flows significantly after wet weather. The slopes around the falls are covered by high-elevation spruces and firs, birch trees, and rhododendrons.
The trail switches back to the right through a hairpin turn, and another (even better) view of the falls opens up. Then you'll cross the far upper reaches of the stream's left fork again. In this headwaters area, all it consists of are some muddy bogs, seeps, and perhaps some tiny, distinct trickles of water. Makeshift log bridges might keep your feet dry, and if they do, they'll stay that way since the trail actually dries out some up ahead. As you approach the ridgeline, an attractive forest of healthy birch trees growing in a grassy gulch appears on your right.
The trail then slides off the left (south) side of the ridge. Now you can begin to hear cars on the Parkway below you on the left. You may also find a piece of rusty wire rope, or a railroad spike - remnants from the days of rampant logging in this area. Leave them alone, since relics like this are federally protected. Besides, the next person who hikes through here has a right to see and ponder these artifacts for themselves.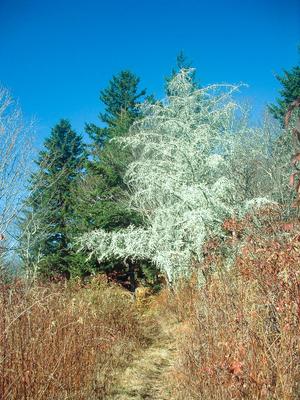 As you gradually swing back to the right toward Mount Hardy, a nice view of this peak and of Herrin Knob opens up on your left.
The trail crosses over the crest of the ridge once again, and then you'll start a climb up the same steep mountainside and cliff band over which the waterfall flows. At the top of this climb, you reach the small plateau above the falls. This is a high bench on the East flank of Mount Hardy. A Catawba rhododendron thicket grows here and it arches over the trail, forming a sort of tunnel.
Notice that the land around you on this bench is flatter than it has been so far during the hike. Not only does this give the stream a chance to grow before heading over the falls, but the little basin, filled with poorly drained soils and underlain with solid bedrock, supports an unusual habitat: a high elevation peat bog. Rare plants find their homes here and nowhere else. Elsewhere, this habitat is threatened by development and here, by trampling. So be sure to stay on the trail as you cross several small tributary streams, all headed for the brink of the falls.
The area around here, for a few miles' radius, is where two larger mountain ranges meet: the Pisgah Ridge, which runs northeast from here all the way to to Asheville, and the Balsam Mountains, which run northwest toward the Great Smoky Mountains. This broad junction contains a number of these characteristic high-altitude flats like the little bench you just traveled through - such as the better-known Flat Laurel Creek Valley and Graveyard Fields to the east.
You'll begin winding up the ridge on the north edge of the bench, and then you'll follow the ridge's crest until it joins the crest of Fork Ridge, which heads north from Mount Hardy.
You may find Pinkshell Azalea or Wretched Sedge in the crevices of rock outcrops. The forests here vaguely resemble ones out west in the Rockies in places, where you find tall conifers growing on grassy slopes. Thick, tangled undergrowth in other places, however, comprise a dead giveaway that you are in the wetter Appalachians. This combination of topography and weather also ensures that there are plenty of waterfalls here, another of which you will be seeing shortly!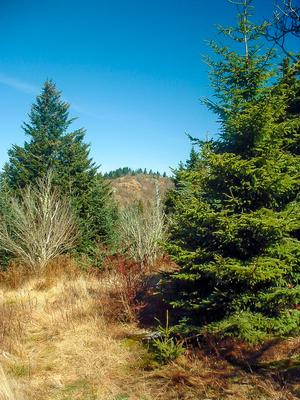 As you approach the crest of Fork Ridge, you'll encounter the steepest climb on the hike yet, with a large grassy opening on your left. Just past the opening, you reach the summit of the ridge, and an un-signed trail joins from the right. This is the Green Mountain (formerly Fork Ridge) trail and it's where you will want to turn right to continue this hike. Since this trail is not signed, blazed, nor very heavily used - and tends to fade out in places - it is essential to have a map and compass to make it to Green Knob from here. It is not difficult, but do not even attempt to do so on a foggy day!
The forest at this point is primarily comprised of Red Spruce and Fraser Fir, with thick tangles of blackberries growing where they can get sunlight. But you will wind your way through some grassy openings as well, and also several saddles that contain the beginnings of a "Beech Gap" forest.
The Beech Gap forest occurs when American Beeches take hold in the saddles along a high ridge like this one, and then gradually monopolize the forest. These are like "deciduous islands" in the spruce-fir sea at this altitude. The short, stocky beech trees - shaped into "orchard vegetation" by the wind - provide an interesting and unique habitat once they become established. The way the trees grow and reproduce differs from stands of American beech at lower elevations. Here, the patches of beech trees are still small, yet will likely continue to grow until each saddle is filled with them, with grasses and sedges flowing beneath them. This is yet another fascinating anomaly of the Southern Appalachian forests.
Or at least, it was. A complex of pathogens - including a non-native insect and fungus - are killing off the beech trees. Called Beech Bark Disease, this is a potent killer and beech gaps all over the Appalachians have become infected died off in recent years. So if you still find the beech trees alive when you get here, consider yourself lucky to have seen them. Maybe you remember the tall, dark hemlocks which used to tower over the streams in lower elevations, too?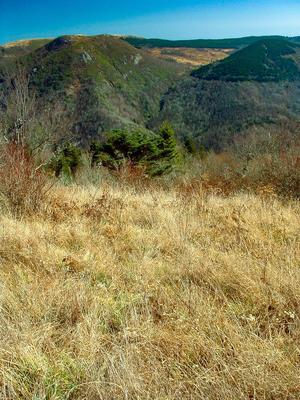 Continuing along Fork Ridge on the Green Mountain trail, you'll pass over two smaller summits and a couple of small knobs before ascending to Green Knob itself. It's not marked or signed, but green Knob is the first place where a significant view opens up to the left. That's one way to know that you're there. Also look for a larger grassy opening, at a point higher than all the surrounding terrain - or whip out the GPS if you have one of those with you. Either way, if the trail starts heading steeply downhill for a ways, you've probably gone past it!
Green Knob's summit is where this hike officially ends, and you'll find a nice campsite here with an astounding view of the ridge to your east. Most evident in the scene is Sam Knob with its characteristic double summit in the foreground. To the right of Sam Knob you can see Little Sam Knob, with Flat Laurel Creek cascading out of the high, relatively flat, grassy meadows between these two mountains. Behind and to the right of Sam Knob looms the long, grassy ridge of Black Balsam Knob and the sharp point of Tennent Mountain can be seen to the left of that.
Also, almost the entire path of the Flat Laurel Creek trail - an old logging railroad grade - can be seen, starting at Hwy. 215 on the right, to the parking area at the end of FS 816 (Black Balsam Road). Above the roadbed grows a thick Spruce/Fir forest. Below it grow mostly northern Hardwood trees with only scattered spruces and firs. If you look closely, you may be able to see FS 816 coming through the gap below Black Balsam Knob and heading down to the parking area at its end.
The hike is just long enough that some people choose to camp up here overnight, making for two short hikes rather than one long one. Whether you camp or just stay for a while to soak up some views, return to your vehicle following the same route to complete the hike.
All Photos from This Hike
Map
Green highlight indicates the route to follow within the trail network for this hike.
Tip: Printing this map? You can pan and zoom the map as desired before printing to show the area you need.
Download GPS Data
Click routes, trails, or points on the map to download them (on the GPS Data tab).