Mount Jefferson State Natural Area
Overview
Located in the far northwest corner of North Carolina, unique Mount Jefferson rises more than 1600 ft. above a broad, high plateau to its northeast to reach nearly 4700 ft. in elevation.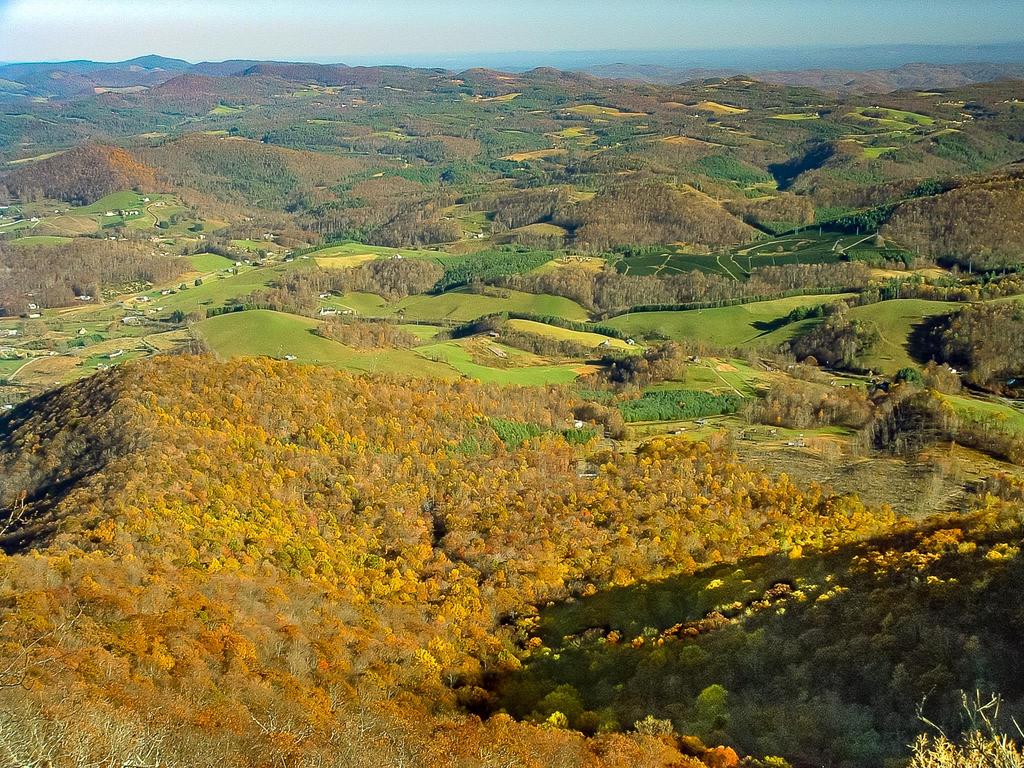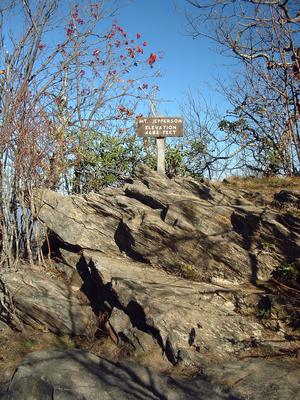 Traveling north to south, it marks the beginning of a cluster of high mountains along and east of the Blue Ridge stretching to the southwest, including Beech Mountain, Sugar Mountain, Roan Mountain, Grandfather Mountain, Big Bald, and Mount Mitchell. North of Mount Jefferson the higher mountains shift west to the state lines and include Mount Rogers in Virginia, which is the last peak above 5000' in the Southern Appalachians if you continue north.
The park is designated as a National Natural Landmark due to its outstanding ecological diversity. Rare plant communities grow here, such as a stand of Aspen trees just below the virgin Northern Red Oak forest on the summit.
Hiking Trails
The new Mountain Ridge trail climbs from the park office up to the Sunset Overlook, the Jefferson Overlook, and the summit parking & picnic area, offering a more strenuous way to "summit" the mountain. It generally follows the park road along its route.
The best way to explore the park's natural diversity and views is, of course, on foot. Mount Jefferson offers the Summit Trail which is 0.3 miles in length and moderately difficult. It's steep, but fairly smooth, and ends at a tower and the high point of the mountain.
There is a loop trail called the Rhododendron Trail leading off the summit trail. It travels along the summit ridge, out to Luther Rock, and makes its way back to the picnic area at an elevation just down from the peak of the ridge. The walk totals 1.1 miles in length and it's listed as "strenuous" in park literature, but I'd call it moderate with only moderately rough trail tread conditions. Magnificent views abound from this loop, which passes through a neat virgin Red Oak forest.
The Lost Province Trail is a 0.75 mile loop extending off the end of the Rhododendron loop, near Luther Rock.
For more details about the hike which combines the Summit and Rhododendron trails, which is also a Kids In Parks TRACK trail, see the Summit/Rhododendron Trail Hike page.
Interactive Trail Map
Map Information
Download GPS Data
Click on a route, trail, or point on the map and select the GPS Data tab to download its data.
Data Formats
KML (Google Earth)
KML is the main file type used by Google Earth. If you have Google Earth installed, clicking the KML link should open the trail or point directly in Google Earth for viewing. This is the native file format used by Google Earth, but many other map applications can use and understand KML as well, so if you're not sure which one to download, KML is a good bet.
GPX
The GPX format stands for GPS Exchange - a free, open, XML format for exchanging GPS and map data. GPX is compatible with Google Earth, many other mapping programs, and most GPS devices (such as Garmin). Load the file directly into your GPS to help find your way on your next trip!
GeoJSON
GeoJSON is a newer, lightweight data exchange format which can be used to quickly share map data and may have a smaller size than KML or GPX. Many professional mapping and GIS applications support the GeoJSON format.
About the Map
Copyright
Base Layers
Base layers provided by OpenStreetMap, the US Geological Survey, the US Forest Service, and NC OneMap. Base layer images are subject to the respective copyright policies of their owners. Base layers may not be available at all times due to system maintenance or outages.
WNCOutdoors Base Layer
The WNCOutdoors Base layer is provided by WNCOutdoors.info. It is licensed by Creative Commons Attribution 3.0.
Trail and Marker Overlays
Trail layers and downloadable data are all original works created by WNCOutdoors with guidance from a variety of sources, including ensembles of our own GPS tracks, user contributed GPS tracks, official maps and GIS data from government agencies, and field observations. WNCOutdoors data is made freely available under the Open Database License - you are free to copy and use it for any purpose under the terms of that license (summary).
Tips
Hover over a trail to see it highlighted. Helps to see start and end points for an individual trail.
Scroll and zoom the map before printing, and that view will persist into the printed image.
Click a trail for more details and to download it individually.
Amenities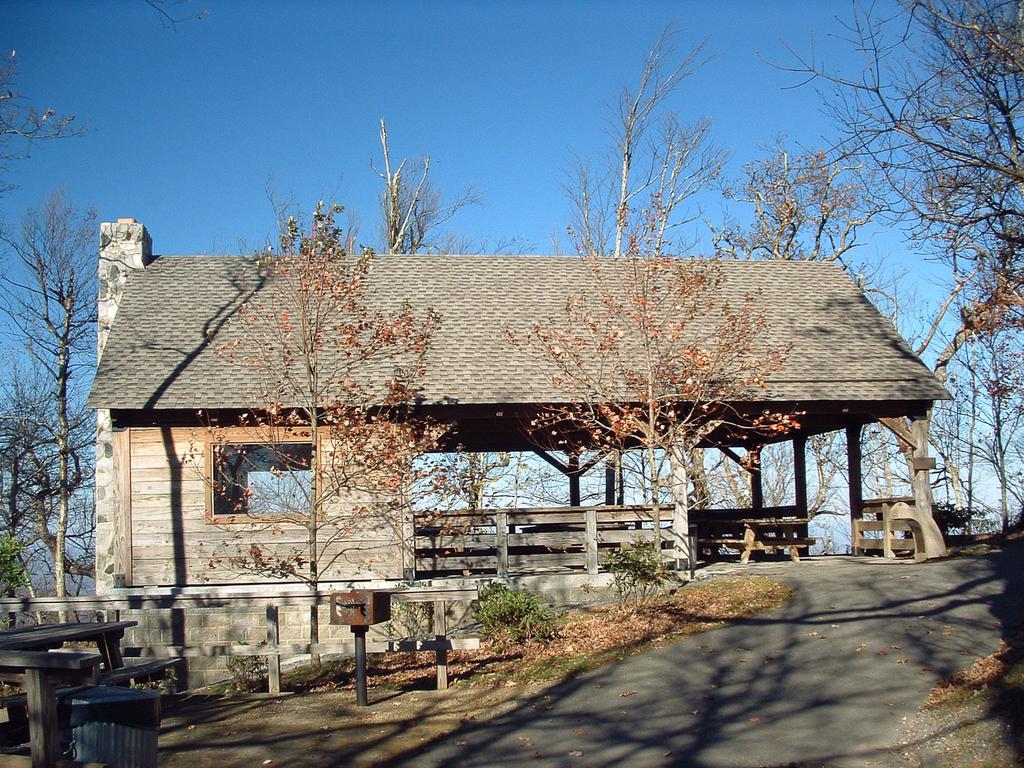 You'll find the park office, a picnic area, restrooms, and a couple of spectacular overlooks along the summit road on the way up to the top. But that's about it. Although this is one of the smaller recreation areas in the mountains, it is well worth the visit.
Park hours:
November - February, 9 a.m. - 5 p.m.
March and October, 9 a.m. - 6 p.m.
April, May, September, 9 a.m. - 7 p.m.
June - August, 9 a.m. - 8 p.m.
Closed Christmas Day
Park office hours
8 a.m. - 5 p.m. weekdays
Closed state holidays
Directions
From the NC Hwy. 105/ US Hwy. 221/421 intersection in Boone, follow US 221/421 for 9.6 miles, where US 221 splits north and turn left. Go 13.7 miles north on US 221 to the park entrance road on the right, just past West Jefferson. It's 3.6 miles to the top - there are signs for the state park.