Hiking in the Nantahala Ranger District
Overview
The Nantahala Ranger District was formed in 2008 by combining the Highlands and Wayah districts of the Nantahala National Forest. The office is now located in Franklin, NC.
Known as the land of Granite Walls and Waterfalls, this district is located around the towns of Franklin and Highlands in North Carolina's southern mountains.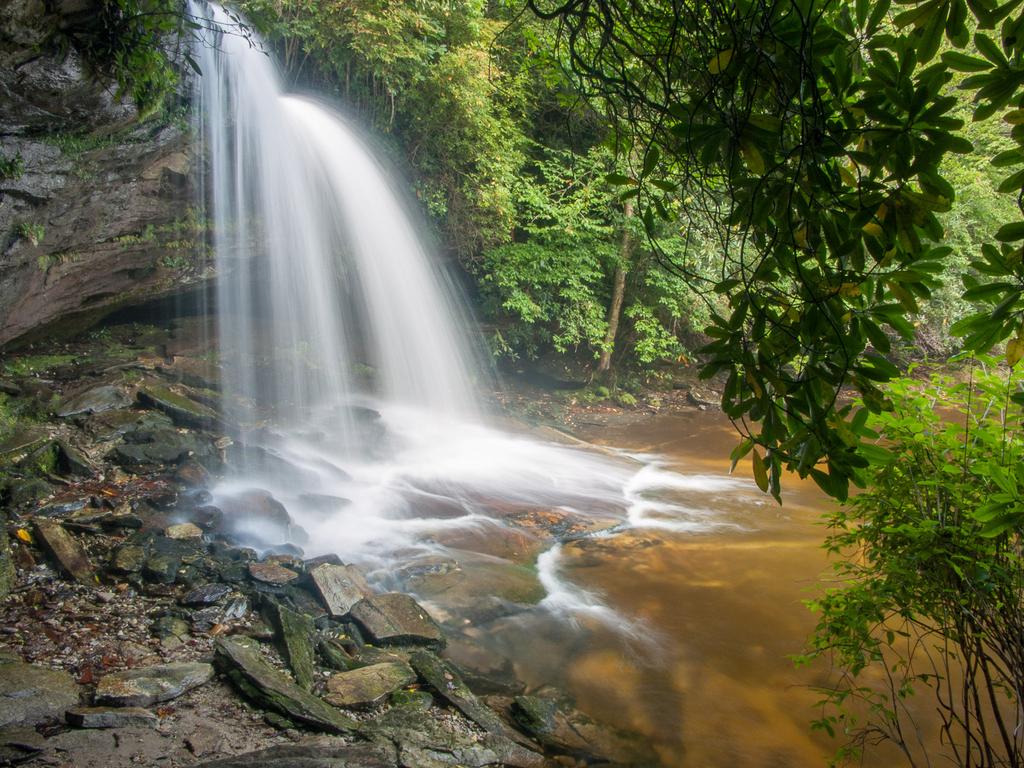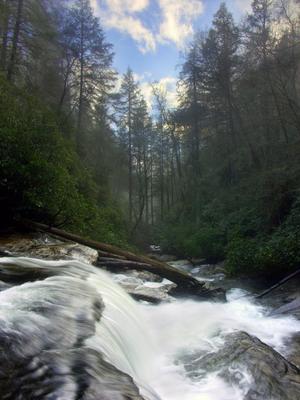 Much of this district lies along the Blue Ridge Escarpment, a sharp drop in elevation between the Mountains and the Piedmont. Above the escarpment, there are high plateaus and tall, rounded mountains. Numerous waterfalls cascade over massive rock cliffs up to 400 feet high, and round granite domes with cliffs approaching 1000 feet provide for incredible viewpoints.
Much of the Southwestern portion of North Carolina is enclosed by the Nantahala National Forest boundaries. However, parcels actually owned by the Forest Service are fragmented, with many private in holdings. Posh resorts, upscale tourist towns and summer homes dot the landscape. Plenty of hiking trails, however, exist within this forest, and the Highlands district contains some of the best to be found.
Highlights of this district include:
An officially designated National Wild and Scenic River, the Chattooga, as well as other scenic waterways
Major waterfalls, including Whitewater falls, Glen Falls, Silver Run Falls, Secret Falls, Ranger Falls, and falls of the Cullasaja Gorge area including Bridal Veil Falls, Dry Falls, and Lower Cullasaja Falls (to name a few!)
Cliffside Lake and Van Hook Glade Recreation Areas
Whiteside Mountain featuring its 750 foot high cliffs and spectacular views
Blue Valley and Panthertown backcountry areas. Panthertown has many waterfalls and an extensive trail network
Balsam Lake, with its lovely mountain lodge available for the public to reserve
News
Highlands District to be Combined with Wayah District
Due to increasing budgetary pressure from the current administration, the Highlands and Wayah Ranger Districts are being consolidated. Although this will result in fewer employees and only one district office, the Forest Service says it can maintain all current recreation facilities and its services to the public. The new district will be called "Nantahala". Read about it in the official Forest Service news release (106KB PDF)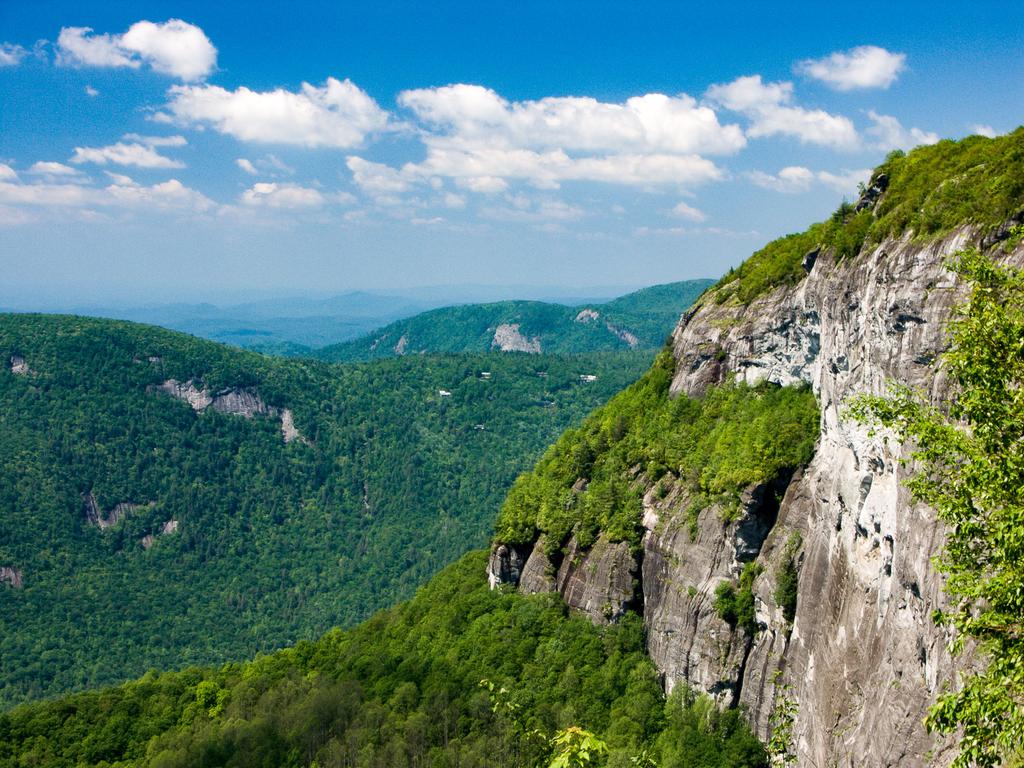 Places to Stay in the Highlands Ranger District
Camping
Van Hook Glade Campground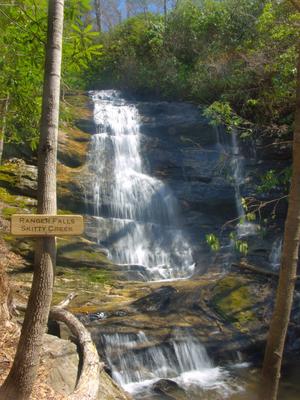 This delightful, small campground has 21 sites, and campers may swim and shower at nearby Cliffside Lake Recreation Area. Sites are secluded and set back into mature forest and rhododendron groves, making this a favorite on most visitors' lists. Sites are $12/night. Tents as well as small RV's are allowed (there is only one pull-through site). Hikers can pick up trails to Dry Falls on the Cullasaja River, as well as trails in and around Cliffside Lake Recreation Area directly from the campground. Located 4 miles West of Highlands on US Hwy. 64.
Official Information and Reservations: call (828) 862-5368 or visit: Reserve USA
Lodging
Laurel Creek Cabin
Located only 10 minutes from Tsali, this is the perfect getaway. After a long day on the trails, cool off with a swim in Lake Fontana (a quick 5-minute walk from cabin). Laurel Creek Cabin sits on 5 secluded acres surrounded by National Forest Service Land. Enjoy the rustic charm & beautiful knotty pine interior. Relax in the cool summer evenings, or take in the autumn colors, by sitting on the large screened-in porch. Conveniently located 10 minutes from Nantahala Outdoor Center, Appalachian Trail access & many other popular tourist destinations.
For more info: (850) 386-7229.
http://www.vrbo.com/125751
The Hinton Center
The Hinton Center is nestled in the Blue Ridge Mountains of Western North Carolina just outside the city limits of Hayesville, North Carolina and approximately 2 hours from Atlanta, Asheville and Chattanooga. Our facilities have gorgeous views of Lake Chatuge and the surrounding mountains. We are conveniently located near many outdoor recreation areas including the Nantahala National Forest, and the North Carolina Section of the Appalachian Trail. Lodging is available year round for groups and individuals and include special off-season discounted rates. For more informatin, please visit our web site below.
http://www.hintoncenter.org