Sam Knob Trail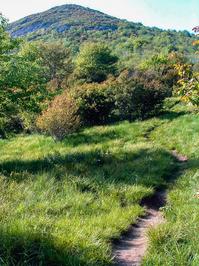 At A Glance


1.07 mi one-way
Difficulty Rating: 2.44


Steepness: Climbs Moderately


Tread Condition: Moderately Rough


Lowest Elevation: 5420
Highest Elevation: 6075
Total Elevation Gain: 655
Blaze Color: Blue
Trail Number: 617
Hikes That Use This Trail: Sam Knob, Flat Laurel Creek

Description
Fantastic, high elevation trail. Starts at the Flat Laurel Creek trail and travels to the summit of Sam Knob. Blueberries abound in season. Short, high-elevation hardwood forest near the bottom, then heath balds and grassy areas near the top. At the summit, the trail forks and goes to both the north and south high points on the knob. Both directions end at overlooks offering spectacular views of the Middle Prong, Shining Rock, and Black Balsam areas.
Intersecting Trails
This trail is located in the Black Balsam area. For a list of all the trails in that area, see the Black Balsam trails list page.
All Photos from the Trail
GPS Map
Download GPS Data
Click routes, trails, or points on the map to download them (on the GPS Data tab).
Trail Segments
Trails are often made up of several connecting paths which may have different characteristics, allowed uses, and seasons. This trail is divided into multiple segments as follows:
Meadow to Summit
Allowed Uses: Hiking
Length: 0.58 mi
Flat Laurel Creek to Meadow
Allowed Uses: Hiking
Length: 0.41 mi
Summit Split to North Summit Overlook
Allowed Uses: Hiking
Length: 476 ft
Summit Split to South Summit Overlook
Allowed Uses: Hiking
Length: 313 ft
Total Calculated Length: 1.14 mi
This value is derived from our underlying map data, and it may not match officially published information.
Feedback
Ratings
Average Rating: (rated 0 times)
Rate It Now:
Comments