Sam Knob Summit Trail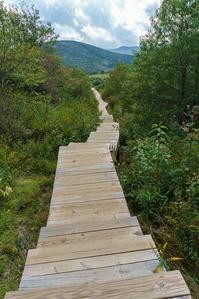 At A Glance


0.7 mi one-way
Difficulty Rating: 1.03


Steepness: Climbs Gently


Tread Condition: Some Obstacles


Lowest Elevation: 5650
Highest Elevation: 5800
Total Elevation Gain: 150
Blaze Color: Blue
Trail Number: 617A
Hikes That Use This Trail: Sam Knob, Flat Laurel Creek

Description
This short trail starts at the Black Balsam parking area at the end of Black Balsam Road. It follows an old road bed through a mixed, high elevation forest on a level path to a big staircase that makes easy work out of the descent over a once highly eroded section of trail. It then passes through a big, pleasant, open wildlife field before ending at a T junction with the Sam Knob trail.
Perhaps strangely, this trail itself does NOT go to the summit of Sam Knob. The older Sam Knob trail does, but it starts off of Flat Laurel Creek trail and winds its way up past the far end of the field mentioned above to the actual summit. Take a right at the T to reach the summit.
I believe the name came to be as follows: when people discovered that this old road through the field was a shortcut from the parking area to the middle of the Sam Knob trail, everyone started going that way instead of taking the Sam Knob trail. The Forest Service eventually put up a sign labeled "To Sam Knob Summit" at the start of the road before it became an official trail. Later, when this route was added to the official Forest Service trail network, they dropped the "To" and kept "Sam Knob Summit". So it's now more of a directional sign than a literally accurate name.
And that's the kind of thing that led to so many bizarre road and trail naming schemes in the mountains!
Intersecting Trails
This trail is located in the Black Balsam area. For a list of all the trails in that area, see the Black Balsam trails list page.
All Photos from the Trail
GPS Map
Download GPS Data
Click routes, trails, or points on the map to download them (on the GPS Data tab).
Feedback
Ratings
Average Rating: (rated 0 times)
Rate It Now:
Comments