Setrock Creek Falls Trail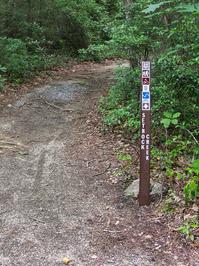 At A Glance


0.2 mi one-way
Difficulty Rating: 0.2


Steepness: Climbs Gently


Tread Condition: Some Obstacles


Blaze Color: White
Trail Number: 197

Description
The trail itself is a short climb up beside Setrock Creek through a hardwood & hemlock forest to the base of Setrock Creek Falls. Mostly easy, with a few rocks & roots to scurry over or around. There is a nice place to hang out and wade at the base of the falls; highly recommended if you're in the Black Mountains Campground area.
Requires a short hike up the Briar Bottom trail from the campground entrance to reach the trailhead, so the overall hike is about a mile round-trip.
Intersecting Trails
This trail is located in the Black Mountains & Toe River area. For a list of all the trails in that area, see the Black Mountains & Toe River trails list page.
All Photos from the Trail
GPS Map
Download GPS Data
Click routes, trails, or points on the map to download them (on the GPS Data tab).
Feedback
Ratings
Average Rating: (rated 0 times)
Rate It Now:
Comments