River Loop Trail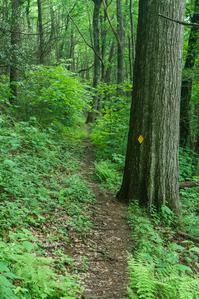 At A Glance


3.1 mi one-way
Difficulty Rating: 3.1


Steepness: Few Hills


Tread Condition: Some Obstacles


Blaze Color: Yellow
Trail Number: 200
Hikes That Use This Trail: Mount Mitchell

Description
River Loop trail is a double-lollipop shaped trail with two loops on each end: the north and south. The Black Mountain Campground sits near the middle.
Southern (Upstream) Loop
The southern, or "upstream" loop, located southwest of the Black Mountain Campground, is described here starting at the hiker parking area at Black Mountain Campground on S. Toe River Road and looping clockwise.
The trail ascends behind the sign boards on a path shared with the Green Knob and Mountains to Sea Trail through a former hemlock grove at the north end of Cove Ridge. In this cove, and along the rest of this loop, most of the hemlocks have been killed by the Hemlock Woolly Adelgid. There are only a few hemlocks surviving here, but they're medium-sized so if they continue to thrive they'll be beautiful in a few years once the Adelgid damage falls away. Otherwise, the cove is beautiful and filled with small trees (many of them birches) and ferns.
The trail bends east to a junction at a rocky spot. The Mountains to Sea Trail continues straight, while the River Loop and Green Knob switch back to the right on a side-hill course now heading west. In a few yards, the Green Knob trail splits to the left leaving the path occupied by only the River Loop trail as it moves through a wet area and toward the nose of a ridge. There are some enormous trees growing here; one notable oak in particular is located right next to the trail.
The trail rounds the ridge and turns to a southwesterly direction on the east side of the river as it passes through more lush forest scenes. It rises slightly to a partial view (better in winter) of the Black Mountains range and Mt. Mitchell to the west. You can get a sense of how high the ridge towers over the river valley from this vantage point, even if you can't see the summit itself.
The trail picks up old logging roads in places, where it gets wider, as it undulates up and down some. The trail swings back to the north around a wildlife clearing with some more partial views before a last leg on an old logging road where it makes a sharp turn to meet up with S. Toe River Road. Turn left and cross the river on the concrete bridge.
The trail leaves the road to the right on the other side of the bridge and picks up another series of old logging roads as it heads back toward the campground on the west side of the river, heading northeast. You'll cross a tributary, Camp Creek, on stepping stones and a smaller tributary draining Higgins Bald beyond that. The trail rises above the river some in places and is generally lush and pleasant. At the bottom of Flynn Ridge, you'll make a short descent to the riverside and arrive back at Briar Bottom Group Campground.
Continue straight on the Briar Bottom trail through the campgrounds, past the Setrock Creek Falls and Mount Mitchell trail junctions, to the main Black Mountain Campground Road. The parking area is just ahead at the campground entrance, to the right and across the bridge.
The Middle Portion
The trail follows the campground roads from the campground's entrance bridge over to the amphitheater. Then the trail turns right, and turns right again at the junction with Devil's Den Nature Trail. It follows the S. Toe River downhill a short distance, climbing up and over some rocks in spots, then follows and crosses a tiny tributary before meeting the northern loop at the upstream bridge over the S. Toe River.
Northern (Downstream) Loop
The northern, or "downstream" loop, located northeast of the Black Mountain Campground, is described here starting at the upstream bridge when coming from the campground via the middle section described above.
Cross the S. Toe River at a killer swimming hole on the sturdy bridge, continuing onto a graveled portion of path. You'll reach a junction - straight ahead is the S. Toe River Road at the Fishing Access parking area (another good spot to park to hike this trail). Left is yellow-blazed River Loop, which winds through the bottomlands along the S. Toe River. There are some massive trees in this stretch of the forest dominated by tuliptree, sycamore, and (formerly) hemlock - though few impressive hemlock do still survive! (These have likely been treated with insecticide to keep Hemlock Woolly Adelgid at bay). The trail meets up with S. Toe River road briefly beside some picnic tables (another potential parking spot) and follows the road a bit under the power lines.
The trail angles left back into the woods, crosses a normally-dry braided stream of the river, and then crosses the river proper on another sturdy bridge, where there are some nice views both upstream and downstream. It turns sharply left, heading back upstream.
The trail climbs the riverbank a bit, affording a nice view down to the river and up to the Blue Ridge on the other side. It descends back into the bottomlands before winding its way back up to the upstream bridge.
Intersecting Trails
This trail is located in the Black Mountains & Toe River area. For a list of all the trails in that area, see the Black Mountains & Toe River trails list page.
All Photos from the Trail
GPS Map
Map Information
Download GPS Data
Click on a route, trail, or point on the map and select the GPS Data tab to download its data.
Data Formats
KML (Google Earth)
KML is the main file type used by Google Earth. If you have Google Earth installed, clicking the KML link should open the trail or point directly in Google Earth for viewing. This is the native file format used by Google Earth, but many other map applications can use and understand KML as well, so if you're not sure which one to download, KML is a good bet.
GPX
The GPX format stands for GPS Exchange - a free, open, XML format for exchanging GPS and map data. GPX is compatible with Google Earth, many other mapping programs, and most GPS devices (such as Garmin). Load the file directly into your GPS to help find your way on your next trip!
GeoJSON
GeoJSON is a newer, lightweight data exchange format which can be used to quickly share map data and may have a smaller size than KML or GPX. Many professional mapping and GIS applications support the GeoJSON format.
About the Map
Copyright
Base Layers
Base layers provided by OpenStreetMap, the US Geological Survey, the US Forest Service, and NC OneMap. Base layer images are subject to the respective copyright policies of their owners. Base layers may not be available at all times due to system maintenance or outages.
WNCOutdoors Base Layer
The WNCOutdoors Base layer is provided by WNCOutdoors.info. It is licensed by Creative Commons Attribution 3.0.
Trail and Marker Overlays
Trail layers and downloadable data are all original works created by WNCOutdoors with guidance from a variety of sources, including ensembles of our own GPS tracks, user contributed GPS tracks, official maps and GIS data from government agencies, and field observations. WNCOutdoors data is made freely available under the Open Database License - you are free to copy and use it for any purpose under the terms of that license (summary).
Tips
Hover over a trail to see it highlighted. Helps to see start and end points for an individual trail.
Scroll and zoom the map before printing, and that view will persist into the printed image.
Click a trail for more details and to download it individually.
Trail Segments
Trails are often made up of several connecting paths which may have different characteristics, allowed uses, and seasons. This trail is divided into multiple segments as follows:
River Loop - S Toe River Rd to Briar Bottom
Allowed Uses: Hiking
Length: 1.01 mi
Green Ridge - River Loop
Allowed Uses: Hiking
Length: 481 ft
Green Ridge - River Loop - MST
Allowed Uses: Hiking
Length: 0.29 mi
River Loop - Devil's Den - Amphitheater to Split
Allowed Uses: Hiking
Length: 431 ft
River Loop - Middle Portion
Allowed Uses: Hiking
Length: 0.39 mi
River Loop - Fishing Access Bridge Portion
Allowed Uses: Hiking
Length: 313 ft
River Loop - Fishing Access Portion
Allowed Uses: Hiking
Length: 271 ft
River Loop - Fishing Access to Picnic Tables
Allowed Uses: Hiking
Length: 0.2 mi
River Loop - Loop from Picnic Tables Back to S Bridge
Allowed Uses: Hiking
Length: 1 mi
Briar Bottom - Group Camp Trail E
Allowed Uses: Hiking
Length: 0.36 mi
Briar Bottom - Split to Mt. Mitchell Tr.
Allowed Uses: Hiking
Length: 0.16 mi
River Loop - Green Ridge to S Toe River Rd
Allowed Uses: Hiking
Length: 1.51 mi
River Loop - Along S Toe River Road Bridge
Allowed Uses: Hiking
Length: 186 ft
Briar Bottom Rd - Entrance to Trail Split
Allowed Uses: Hiking
Length: 375 ft
BM Campground Rd - Entrance Split to Upper Loop
Allowed Uses: Hiking
Length: 169 ft
BM Campground Rd - Upper Loop R to Devils Den
Allowed Uses: Hiking
Length: 469 ft
Devils Den Nature - River Loop - BM Campground Rd to Amphitheater
Allowed Uses: Hiking
Length: 53 ft
BM Campground Rd - Bridge Access
Allowed Uses: Hiking
Length: 265 ft
Briar Bottom - Mt. Mitchell to Setrock Creek Tr
Allowed Uses: Hiking
Length: 0.11 mi
Total Calculated Length: 5.6 mi
This value is derived from our underlying map data, and it may not match officially published information.
Feedback
Ratings
Average Rating: 4.0 (rated 1 times)
Rate It Now:
Comments