Hickory Branch Trail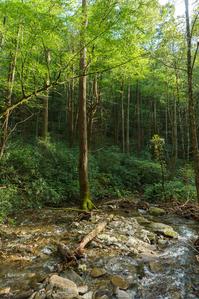 At A Glance


2 mi one-way
Difficulty Rating: 4.31


Steepness: Climbs Moderately


Tread Condition: Some Obstacles


Lowest Elevation: 1890
Highest Elevation: 3080
Total Elevation Gain: 1200
Blaze Color: Orange
Trail Number: 213

Description
The orange-blazed trail starts across the road from the parking area, on the hill behind campsite #16c. Look for the tall brown stake which serves as the trailhead sign. The trail begins by climbing to the top of the ridge. Don't go straight up; turn left to follow an actual trail around a switchback which comes out in the same spot at the top of the ridge.
Descend the other side of the ridge. The trail is pretty steep here too. At the bottom of the descent, the trail crosses Hickory Branch. You may be able to rock-hop and stay dry just downstream from the crossing. The trail heads upstream on the right side of the creek. It levels out in a scenic cove with some wet sections. In 0.3 miles, the trail crosses to the left side of the creek. After another 0.2 miles it gets steeper and veers left up a drainage to an old logging road. It levels out again, and you'll see falls on Hickory Branch on your right shortly thereafter.
The trail continues up and around the falls, taking on a hilly course that crosses the stream several more times in the next 0.2 mi. The trail passes a landslide scar on the left, and then you might see another waterfall ahead and to the right. The trail comes to the base of this upper waterfall after crossing another stream (either a tributary or the main Hickory Branch; the map doesn't show a stream this high up).
Beyond the upper falls, the trail steepens, and climbs a series of switchbacks up onto a small side ridge before coming to a junction with the (unmaintained) Lead Mine Gap trail on the main ridge at an elevation of just over 3200 ft. Most of the trail's elevation is gained on this last stretch beyond the upper falls.
This trail is located in the Curtis Creek area. For a list of all the trails in that area, see the Curtis Creek trails list page.
All Photos from the Trail
Feedback
Ratings
Average Rating: 3.0 (rated 1 times)
Rate It Now:
Comments