Mackey Mountain Trail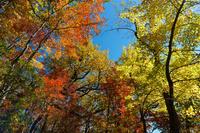 At A Glance


8 mi one-way
Difficulty Rating: 8


Steepness: Hilly


Tread Condition: Moderately Rough


Blaze Color: Orange (sparse)
Trail Number: 216

Description
The infamous Mackey Mountain trail starts near the top of Curtis Creek Road and heads southeast. This trail begins well enough, winding along and across the ridgeline past Sams Knob and over to Narrows Knob. It's a well-graded path in most places, but (as of 2016) the blazes and the trail fade away more and more the farther you go. The trail becomes all but indistinct before essentially petering out in several directions once reaching Mackey Mountain itself.
There are no maintained connections toward the southern end of Mackey Mountain trial, but there are several potential connections you could make back east down to Mackey Creek, south to Stillhouse Branch, or north to Locust Creek via old, abandoned routes. This should all be considered wilderness travel past Narrows Knob.
This trail is located in the Curtis Creek area. For a list of all the trails in that area, see the Curtis Creek trails list page.
All Photos from the Trail
Feedback
Ratings
Average Rating: (rated 0 times)
Rate It Now:
Comments