Snooks Nose Trail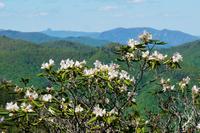 At A Glance


4 mi one-way
Difficulty Rating: 4


Steepness: Climbs Steeply


Tread Condition: Moderately Rough


Blaze Color: Yellow
Trail Number: 211

Description
Starting the Curtis Creek campground, the trail winds its way into the cove containing Slick Falls Branch on an old logging road, and then begins its signature climb. This is one steep trail! There are a few switchbacks, but they don't minimize the grade much at all. After passing Slick Falls on the right - which is nearly impossible to get a good view of - the trail curves across a ridge, where there is a small clearing and junction of old roads. Keep to the right here. The trail then levels out some, but only briefly. The steepest part of the climb is yet to come.
After resuming the super-steep climb on the old logging road system, the trail passes a large rock face on the left, then transitions into a purpose-built trail which is much more comfortable to hike. This section is narrower, and passes through switchbacks, easing the grade somewhat. After a pronounced turn to the north, the trail pops out of the denser forest onto the exposed ridge called Snooks Nose.
Views from Snooks Nose are fantastic, mostly to the east toward Linville Gorge and to the west toward the Blue Ridge and Black Mountains. Many people make an out-and-back hike with 3625 ft Snooks Nose as the destination, making for a hike of about 4 miles and a 1775 ft climb.
However, if you really want to earn summit bragging rights, the trail does continue up the ridge to cross 4300 ft Laurel Knob. It then descends a bit before climbing yet again to reach the Blue Ridge Parkway at the Green overlook. You can continue to the summit of Green Knob (the ultimate culmination of the Snooks Nose ridge) via a 0.2 mi section of the Green Knob trail, located about 100 yards north along the Parkway on the left. Summiting Green Knob this way makes for a 9 mile out-and-back hike with an overall climb of 3240 ft (not counting a couple hundred for ups-and-downs), going all the way up the Blue Ridge - and rivaling some of the toughest single-trail climbs in the region!
This trail is located in the Curtis Creek area. For a list of all the trails in that area, see the Curtis Creek trails list page.
This trail also crosses into these trailhead areas:
All Photos from the Trail
GPS Map
Download GPS Data
Click routes, trails, or points on the map to download them (on the GPS Data tab).
Feedback
Ratings
Average Rating: (rated 0 times)
Rate It Now:
Comments