Daniel Ridge Loop Trail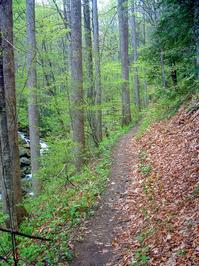 At A Glance



4 mi one-way
Difficulty Rating: 4


Steepness: Hilly


Tread Condition: Some Obstacles


Blaze Color: Red
Trail Number: 105

Description
The naming of this trail appears to be kind of a flub as it's not anywhere near Daniel Ridge itself; instead, the trail is on a spur of Lanning Ridge. Daniel Ridge is two mountains farther west. Described here clockwise, this trail can be hiked either direction.
To start, this loop follows an old road upstream. The trail passes through a typical cove hardwood forest with a hemlock graveyard/nursery (though the fate of the youngsters is yet to be decided, many small ones are still alive as of 2018). The trail passes an old fish hatchery, begins a moderate climb, becomes much rockier, and splits: the left path parallels the river and passes some nice cascades. The right path stays on the old road bed with views down to the stream. Both forks come back together again shortly before a wet area and the ruins of an old bridge over Right Fork.
Bear right; the trail narrows as it climbs Right Fork between Lanning Ridge and Fork River Ridge. It clings to the steep hillside in places. This section is very rocky and eroded. Tall, straight tuliptrees grow in a beautiful cove hardwood forest along Right Fork. You'll come out at a set of steps and the intersection with the Farlow Gap trail; turn right.
This begins a slight descent over a couple of wet-weather tributaries back to a moderate climb. The trail passes through a couple of eroded switchbacks and then enters a beautiful open area on a gentler slope with the steep mountainside looming overhead. It travels through mostly smaller trees - mixed hardwoods, red spruce, and a few surviving hemlocks, with the occasional larger oak or beech.
At the crest of the ridge, a trail connecting to FS 225 (Cove Creek Road) appears on the left; bear right. The trail starts descending through logged areas, somewhat steeply at times. The trail crosses FS 5046; continue straight across and continue descending. The trail levels out, descends again, then starts crossing tributary streams - both rock-hops and on plank & log bridges.
The trail is traveling through plateau-like valley by this point in a forest of hemlocks, rhododendrons, and twisted old Mountain Laurel, arching over the trail at times. There are some openings (meadows, fields) in the forest that provide habitat for wildlife. It is still heading in a general downhill direction although it undulates up and down in places.
(As of April 2018, materials appear to be stacked up beside the trail for some bridge replacements, which is a good thing - some are falling apart and built atop the original logging timbers laid half a century or more ago!)
The trail follows the gathering stream downhill and passes the top of Toms Spring Falls (a.k.a. Daniel Ridge Falls) and then goes around a long switchback section. It returns to meet FS 5046 (Lanning Ridge Road) near the bottom of the falls. Turn left at the intersection to reach the base of falls; turn right to close the loop.
Directions
From Asheville, take I-240 west to I-26 east to the exit for the Asheville Airport (exit 40). Turn right onto NC 280; follow this 4-lane highway toward Brevard for 16 miles. At the intersection with US highways 276 and 64, turn right onto US 276 west (follow signs for Pisgah National Forest). Follow this road for 5.2 miles; turn left onto FR 475 (follow signs for the Pisgah Center for Wildlife Education and Fish Hatchery). The Fish Hatchery is 1.4 miles past the turn. The parking area is 2.5 miles past the Fish Hatchery, on the right.
Intersecting Trails
This trail is located in the Davidson River area. For a list of all the trails in that area, see the Davidson River trails list page.
All Photos from the Trail
GPS Map
Download GPS Data
Click routes, trails, or points on the map to download them (on the GPS Data tab).
Trail Segments
Trails are often made up of several connecting paths which may have different characteristics, allowed uses, and seasons. This trail is divided into multiple segments as follows:
Lanning Ridge Rd. - Davidson River Rd. to Daniel Ridge Loop
Allowed Uses: Hiking, Mountain Biking
Length: 0.26 mi
Davidson River Rd - 477 to Lanning Ridge Rd.
Allowed Uses: Hiking, Mountain Biking
Length: 0.12 mi
Daniel Ridge Loop - FS 5046 to Farlow Gap Tr.
Allowed Uses: Hiking, Mountain Biking
Length: 1.76 mi
Daniel Ridge Loop - Farlow Gap To Falls
Allowed Uses: Hiking, Mountain Biking
Length: 2.24 mi
Total Calculated Length: 4.39 mi
This value is derived from our underlying map data, and it may not match officially published information.
Feedback
Ratings
Average Rating: (rated 0 times)
Rate It Now:
Comments