Farlow Gap Trail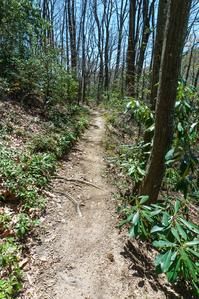 At A Glance



3.3 mi one-way
Difficulty Rating: 3.3


Steepness: Climbs Steeply


Tread Condition: Moderately Rough


Blaze Color: Blue
Trail Number: 106

Description
Follows an old logging railroad grade from the start at the junction with Daniel Ridge trail in the Right Fork cove. From there, it passes a large sloping rock slab and then crosses Right Fork. This can be a tricky crossing to stay dry; it will be impossible during very high water. It then proceeds up a series of 5 switchbacks in a beautiful cove hardwood forest with some enormous Tuliptrees. A small wet-weather waterfall is a few yards straight ahead at the tip of the 4th switchback, and another is to the right of a rock-armored staircase at the 5th.
Past the switchbacks, the trail begins a gradual climb around Fork River Ridge, crosses Daniel Ridge Creek (check out the small waterfall below the trail on the tributary just before the main stream), goes around Daniel Ridge, then descends some to cross Shuck Ridge Creek just above a very nice 25 ft waterfall. This section passes in and out of cove and mixed hardwood forests, sometimes with an understory of Rhododendron, mountain laurel, and doghobble. The once-common small hemlocks are now mostly dead. More than a few Red Spruce trees are gaining height in this area, and it may eventually resemble more of a mixed spruce-hardwood forest if these make it another few decades.
Past Shuck Ridge Creek, the trail becomes narrower and follows purpose-built path or old logging or mining roads on a very steep uphill grade through a side cove heading west. It then veers south across the top of the cove for the final push up to landmark that gives this trail its name, Farlow Gap.
Intersecting Trails
This trail is located in the Davidson River area. For a list of all the trails in that area, see the Davidson River trails list page.
All Photos from the Trail
GPS Map
Download GPS Data
Click routes, trails, or points on the map to download them (on the GPS Data tab).
Trail Segments
Trails are often made up of several connecting paths which may have different characteristics, allowed uses, and seasons. This trail is divided into multiple segments as follows:
Farlow Gap - Daniel Ridge to Shuck Ridge Falls
Allowed Uses: Hiking, Mountain Biking
Length: 2.28 mi
Farlow Gap - Shuck Ridge Falls to Gap
Allowed Uses: Hiking, Mountain Biking
Length: 1.05 mi
Total Calculated Length: 3.33 mi
This value is derived from our underlying map data, and it may not match officially published information.
Feedback
Ratings
Average Rating: (rated 0 times)
Rate It Now:
Comments