Estatoe Trail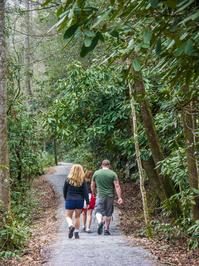 At A Glance



0.7 mi one-way
Difficulty Rating: 0.7 (Easy)
Steepness: Climbs Gently
Tread Condition: Few Obstacles

Description
This new, easy trail follows the Davidson River up from the Lowe's in Brevard to the Davidson River Campground, connecting to the city of Brevard's greenway system. Easy, nearly level trail with some nice riverside scenery. Passes a large rock cliff at one point. It has an expensive, packed/crushed gravel surface with lots of bridge structures over wet areas. Should even be accessible even to small wheels - strollers, etc. - and maybe even wheelchairs, if the wheels are big enough. (Some of the bridges might present a challenge though and I'm not sure if the small inclines would technically allow it to be called "accessible").
Intersecting Trails
This trail is located in the Davidson River area. For a list of all the trails in that area, see the Davidson River trails list page.
All Photos from the Trail
GPS Map
Download GPS Data
Click routes, trails, or points on the map to download them (on the GPS Data tab).
Trail Segments
Trails are often made up of several connecting paths which may have different characteristics, allowed uses, and seasons. This trail is divided into multiple segments as follows:
Art Loeb - Estatoe - Art Loeb Parking to Bridge
Allowed Uses:
Length: 0.23 mi
Art Loeb - Estatoe Bridge
Allowed Uses:
Length: 108 ft
Art Loeb - Estatoe - Bridge to Split
Allowed Uses:
Length: 0.48 mi
Estatoe
Allowed Uses:
Length: 0.68 mi
Total Calculated Length: 1.41 mi
This value is derived from our underlying map data, and it may not match officially published information.
Feedback
Ratings
Average Rating: 5.0 (rated 1 times)
Rate It Now:
Comments