River Ridge Loop Trail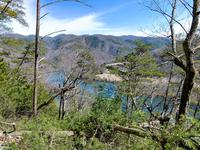 At A Glance


1.3 mi one-way
Difficulty Rating: 1.3


Steepness: Climbs Gently


Blaze Color: Yellow
Trail Number: 281

Description
This is a loop with a short section of out-and-back trail up to the loop portion. Described here in a counter-clockwise direction for the loop portion.
Starting at the picnic area, ascends the steep river valley on a nice, newly-built path through a young forest of oaks, Virginia pine, and various invasives. Has some superfluous railings in places. Crosses an old road bed, then loops through a switchback and up through a tiny cove where native White Pine grow tall. Joins the old road and follows it a bit, then you reach the loop portion of the trail. Turn right to split off the old road and head out toward the ridgeline. The trail curves left and follows the ridge, where views of the river open up in places. It's somewhat overgrown, though, making the views through the thick pines better in winter.
After a short jaunt along the ridge, the trail joins back to the old road at an intersection, where you can head left to close the loop. (To the right is the Jack Branch trail, which continues up the old road bed toward the state line ridge).
Turn left to continue the loop portion of the trail. This descends moderately through a fairly nondescript but pleasant enough forest to the initial split and close of the loop portion of the trail. Continue straight and retrace your steps to the picnic area to finish the trail.
Picnicking, fishing and vault toilets are available at Murray Branch Picnic Area.
This trail is located in the Hot Springs area. For a list of all the trails in that area, see the Hot Springs trails list page.
All Photos from the Trail
Feedback
Ratings
Average Rating: (rated 0 times)
Rate It Now:
Comments