The Hot Springs, North Carolina Area
Overview
The town of Hot Springs, NC has long since been a destination for those looking for therapeutic relief from their ailments using the natural, hot mineral springs for which the town is named. For over 200 years, visitors have been coming to Hot Springs to enjoy the springs and the mountain views.
Today, Hot Springs not only boasts the springs themselves, but is well situated to be a great base for exploring the area's many hiking opportunities.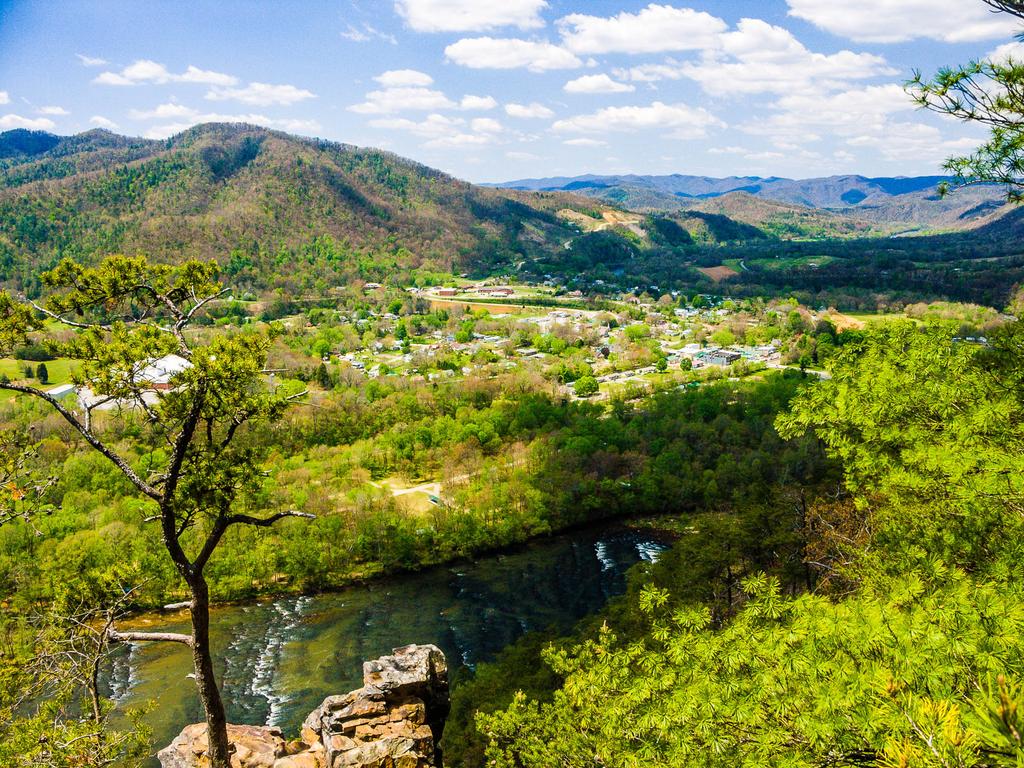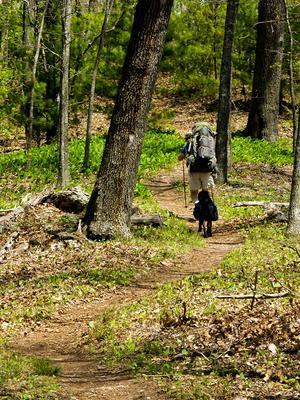 The actual spring is located where Spring Creek meets the French Broad River. These are the only significant thermal springs in the state, and one of the few on the East coast.
Bridge Street is Hot Springs' main road and it actually has two bridges, one over Spring Creek and one over the French Broad River. Both of these streams provide corridors for recreational opportunities in and around the town as they cut through the surrounding mountains.
For more information on the town's history and the springs, visit the Hot Springs Tourism Association website or the private Hot Springs Resort and Spa website.
Hiking Trails
You can explore some of Hot Springs' hiking trails without even having to get in a car, while others are reachable via a short drive to nearby trailheads.
Downtown Hot Springs and Silvermine Trailhead
Hot Springs is also known as being an Appalachian Trail (AT) town, and the famous path runs right down Bridge Street. By following it north across the French Broad River bridge, you can hike right up to Lovers Leap Ridge for spectacular views back down on the town and the river!
The Lovers Leap Trail can be used as an alternative to reach the overlooks on Lover's Leap Ridge, and it can be combined with the AT to form a loop hike. An alternative to walking across the bridge is to park at the Forest Service's Silvermine Trailhead on the other side of the river.
Also starting at the Silvermine Trailhead parking area is the Pump Gap Loop Trail which intersects the AT in several places, making for longer loop hike options starting in downtown or at the trailhead parking.
Trails North and East of Hot Springs
The Roundtop Ridge trail starts on Reservoir Road off River Road about 1/4 mile west of the US 25/70 bridge. So with a short walk along the road, you could climb from downtown all the way up to the A.T. near the Rich Mountain Fire Tower on the Tennessee state line. It provides a loop opportunity when combined with the A.T.
Although a hike to the Rich Mountain fire tower is most suitable for backpacking, it could be doable on a long day hike if you have lots of energy.
The little-used Mill Ridge trail lies a bit farther northeast of town and connects to the A.T. It's a loop trail, mostly on an old road bed, open to bikes, and with views down into the Laurel River gorge.
The very popular Laurel River trail starts on US 25/70 northeast of town and follows Big Laurel Creek downstream to its confluence with the French Broad river at the logging ghost town of Runion. This a long but easy walk on an old railroad grade.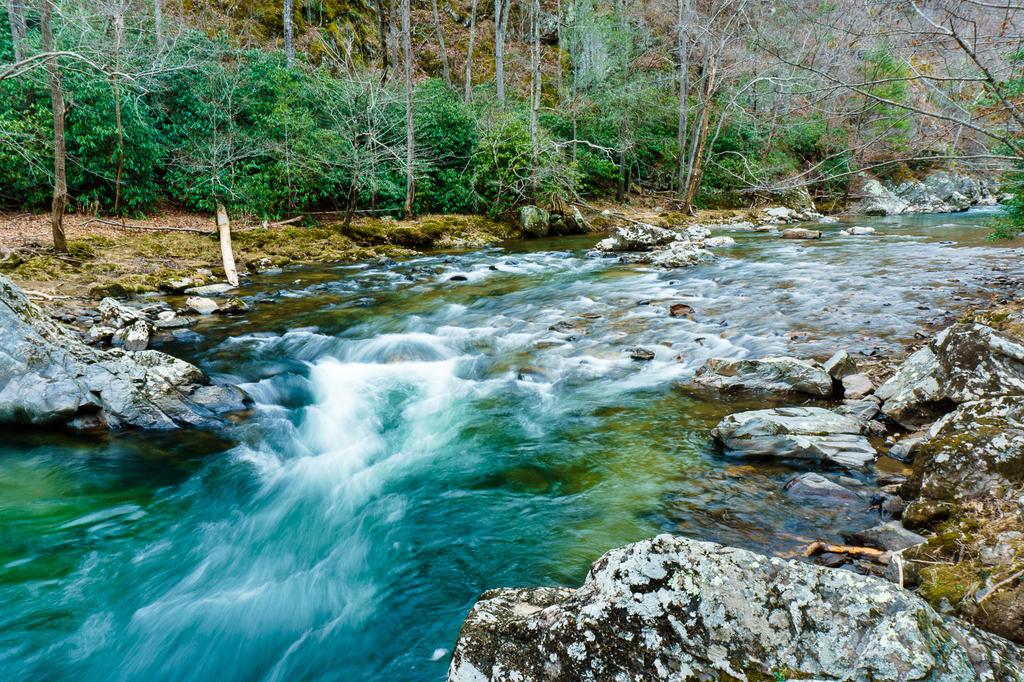 Trails South and West of Hot Springs
Several other trails are scattered throughout the mountains within 5-10 miles of downtown, including the Betty Place, Shut-In, Van Cliff, Spring Creek, Golden Ridge, River Ridge, and Jack Branch trails.
This is just an overview of the trails in the Hot Springs area. For a complete list, visit the Hot Springs Area Trails page.
Places to Stay in Hot Springs
Camping
Hot Springs Resort & Spa Campground
Located across the street from the Spa, this riverside campground provides full hookups for RV's as well as secluded tent sites, camping cabins, hot showers, and a convenience store with hiking and camping supplies.
For more information, visit their website.
Rocky Bluff Campground
National Forest campground located at the Rocky Bluff Recreation Area.
Lodging
Hot Springs Log Cabins
We offer cozy, romantic, one-room Honeymoon Style log cabins. There are 5 cabins on 11 acres with views of Pisgah National Forest. All 5 cabins feature a hot tub, fireplace, gas grill, washer/dryer, full kitchen & bath, and comfy queen bed. We have pet friendly vacation rentals, so invite your dog too! Located 6 miles south of Hot Springs, North Carolina - "About an hour" from Asheville, Biltmore, & Cherokee. https://hotspringslogcabins.com/
Little Bird Cabin Rentals
Located just steps from the AT in Hot Springs NC, our pet-friendly rental cabins offer a clean, well-maintained, and affordable place to stay. From the cabins, a 5 minute walk will get you to all of the restaurants and shops of Hot Springs, and a 10-12 minute walk will land you at the Hot Springs Spa where you can soak in our famous mineral waters!
Chickadee Cabin sleeps 4
Goldfinch Cabin sleeps up to 7
49 S Serpentine Ave
Hot Springs NC 28743
Phone: 828-206-1487
http://www.LittleBirdCabinRentals.com/
Limestone Cabin
Limestone Cabin is a 100 year old log cabin located in Hot Springs, NC that was dismantled and relocated to the banks of the French Broad River. It is great for Honeymoons, Anniversaries, or just a quite getaway. Attractions nearby include hiking, fishing, rafting, horseback riding or you can just relax in the hot tub.
http://www.limestonecabin.com/
Tree House Cabins
Tree House Cabins are located in Hot Springs North Carolina, 4 minutes from the French Broad River, the Appalachian Trail, and the famous Mineral Hot Springs. Our cabin will sleep 2 to 6 guests, with Queen size Beds, Full kits, Fireplace, Satellite TV, and a private hot Tub at your cabin with a great view over looking the valley of Hot Springs, NC.
http://www.hotspringstreehousecabins.com/
The town of Hot Springs provides several other options for lodging, including motels, cabins and Bed & Breakfast inns. Get more information from the Hot Springs Tourism Association.
To request that your place of lodging be listed on this page, please contact us.
Directions
To the Town of Hot Springs
Hot Springs is located on US Hwy. 25/70 about 26 miles west of the junction with I-26 in Weaverville (which is about 9 miles north of Asheville), or 6 miles east of the Tennessee state line (which is about 18 miles east of Newport, TN). Directions to the various individual trail parking areas will start from downtown Hot Springs.