Fletcher Creek Trail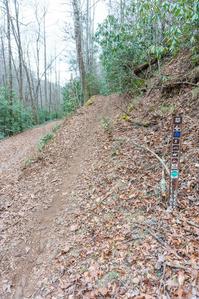 At A Glance




2.4 mi one-way
Difficulty Rating: 2.4 (Easy)
Steepness: Climbs Moderately
Tread Condition: Some Obstacles
Blaze Color: Blue
Trail Number: 350

This trail is located in the Mills River area. For a list of all the trails in that area, see the Mills River trails list page.
Description
Typical streamside trail for the most part, with cove hardwood forests, hemlocks, fern gardens and log bridges. Some muddy sections are out there, but the trail is mostly dry. It passes through some open meadows rimmed with flowering dogwoods near its upper end. These fields have been used to grow corn in years recently past; they can become overgrown with weeds in the summer. Follows the old Fletcher Creek Road.
Note: the log bridge at the intersection with the Spencer Branch and Middle Fork trails was washed away during the storms of September, 2004, so this is now a wet crossing.
All Photos from the Trail
GPS Map
Download GPS Data
Click routes, trails, or points on the map to download them (on the GPS Data tab).
Trail Segments
Trails are often made up of several connecting paths which may have different characteristics, allowed uses, and seasons. This trail is divided into multiple segments as follows:
Fletcher Creek - Neverending Rd. to Middle Fork Tr.
Allowed Uses:
Length: 1.17 mi
Fletcher Creek - Fletcher Creek to Hend. Res. Rd.
Allowed Uses:
Length: 1.16 mi
Fletcher Creek Crossing
Allowed Uses:
Length: 127 ft
Total Calculated Length: 2.36 mi
This value is derived from our underlying map data, and it may not match officially published information.
Intersecting Trails
Feedback
Ratings
Average Rating: (rated 0 times)
Rate It Now:
Comments