Spencer Branch Trail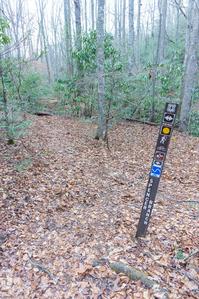 At A Glance




2.3 mi one-way
Difficulty Rating: 2.3 (Moderate)
Steepness: Climbs Moderately
Tread Condition: Moderately Rough
Blaze Color: Yellow
Trail Number: 140

This trail is located in the Mills River area. For a list of all the trails in that area, see the Mills River trails list page.
Description
The upper end of this trail, above FS 5097 (Neverending Road), was recently rerouted onto a much more reasonable grade with a few switchbacks, to replace the old, extremely steep and rocky drop down from Trace Ridge. It's now an easy climb or descent.
The middle section is a more typical streamside trail, with some muddy, wet, and rocky spots.
At the junction with Fletcher Creek, the trail crosses the stream. There used to be a log bridge farther downstream near the junction with Middle Fork, but that washed away in 2004 and was never replaced. You may be able to cross on stepping stones, but only when the water is fairly low.
Downstream from the Middle Fork trail junction, Spencer Branch crosses Middle Fork. That bridge is also out, making for another tricky crossing. Beyond the Middle Fork crossing, the trail enters a narrow gorge as it follows the creek downstream
The trail receives a lot less usage on this stretch. Although not steep, the precipitous trail clings to the steep sides of the cove in places, only a foot (or less) wide with nearly vertical slopes on either side. It threads through corridors of mountain laurel and rhododendrons in some stretches and follows an old logging railroad grade in others. There are some nice sliding cascades on the stream.
There is one more creek crossing which should be easy to rock-hop (unless the water is high) before the junction with the Big Creek trail at the Hendersonville Reservoir. Keep left to finish the Spencer Branch trail on Hendersonville Reservoir Road just below the dam.
All Photos from the Trail
GPS Map
Download GPS Data
Click routes, trails, or points on the map to download them (on the GPS Data tab).
Trail Segments
Trails are often made up of several connecting paths which may have different characteristics, allowed uses, and seasons. This trail is divided into multiple segments as follows:
Spencer Branch - Spencer Gap to Neverending Rd.
Allowed Uses:
Length: 1.16 mi
Spencer Branch - Neverending Road to Fletcher Ck. Tr.
Allowed Uses:
Length: 0.88 mi
Spencer Branch - Fletcher Creek to Middle Fork Tr.
Allowed Uses:
Length: 433 ft
Spencer Branch - Middle Fork Tr. to Big Creek Conn.
Allowed Uses:
Length: 0.86 mi
Spencer Branch - Big Creek Conn. to Hendersonville Reservoir Road
Allowed Uses:
Length: 287 ft
Total Calculated Length: 3.04 mi
This value is derived from our underlying map data, and it may not match officially published information.
Intersecting Trails
Feedback
Ratings
Average Rating: (rated 0 times)
Rate It Now:
Comments