Mullinax Trail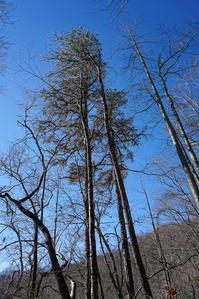 At A Glance




1.2 mi one-way
Difficulty Rating: 1.2 (Moderate)
Blaze Color: Yellow
Trail Number: 326

This trail is located in the Mills River area. For a list of all the trails in that area, see the Mills River trails list page.
Description
From the S. Mills River trail, climbs on an eroded old roadbed through nondescript forest to a nice campsite in a gap, just after crossing a small stream. The trail makes a hard right to the north on another road bed, which heads uphill into the stream's cove before the road's dead-end near its headwaters. Veers right onto a re-routed section through several switchbacks and eventually gains on the ridgeline and passes through a small gap. It then winds its way downhill to the intersection with Squirrel Gap trail in an opening in the forest, on a patch of gentler terrain.
All Photos from the Trail
GPS Map
Download GPS Data
Click routes, trails, or points on the map to download them (on the GPS Data tab).
Total Calculated Length: 1.35 mi
This value is derived from our underlying map data, and it may not match officially published information.