South Mills River Trail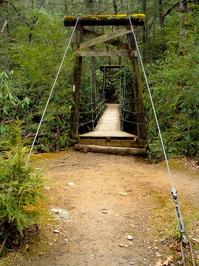 At A Glance



12 mi one-way
Difficulty Rating: 12 (Difficult)
Steepness: Climbs Gently
Tread Condition: Moderately Rough
Blaze Color: White
Trail Number: 133

Description
This is a stream side trail along an old road bed for much of its length; pulls away from the river along one section around High Falls. Crosses the river using bridges (concrete and suspension bridges) and fords it many times as well. There are some very muddy, overgrown, and sandy sections, especially between the intersection of Cantrell Creek and Squirrel Gap trails. Heavy horse usage. Scenic, wide river as it drops out of the Pink Beds. There were once many dense, open groves of hemlock along stretches of this trail; these are mostly dead, and almost all of the large, old, stout hemlocks growing beside the river are dead and falling into it.
Intersecting Trails
This trail is located in the Mills River area. For a list of all the trails in that area, see the Mills River trails list page.
All Photos from the Trail
GPS Map
Download GPS Data
Click routes, trails, or points on the map to download them (on the GPS Data tab).
Total Calculated Length: 13.55 mi
This value is derived from our underlying map data, and it may not match officially published information.