Squirrel Gap Trail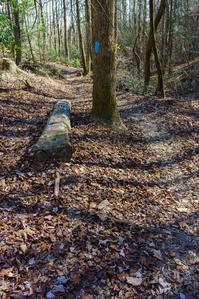 At A Glance



7.5 mi one-way
Difficulty Rating: 7.5 (Moderate)
Steepness: Hilly
Tread Condition: Moderately Rough
Blaze Color: Blue
Trail Number: 147

This trail is located in the Mills River area. For a list of all the trails in that area, see the Mills River trails list page.
Description
This is a long, backcountry trail. It's purpose-built trail that doesn't follow many logging roads - a rarity in Pisgah. From where this trail leaves the Bradley Creek Trail, it follows an easy grade to the old Mullinax homeplace where there is a grassy opening and remains of the house foundation. From here it becomes a side slope trail, continuing through beautiful upper hardwood forests. Limited views are available in the winter. The trail winds in and out of several gaps, such as Mullinax Gap, Laurel Gap, Horse Cove Gap and Squirrel Gap. The trail finally descends to Wolf Ford where it intersects with the South Mills River Trail (#133).
Intersects Mullinax, Laurel Creek, Poundingmill, Cantrell Creek, Horse Cove Gap, and South Mills River trails, making for some great loop options.
All Photos from the Trail
GPS Map
Download GPS Data
Click routes, trails, or points on the map to download them (on the GPS Data tab).
Trail Segments
Trails are often made up of several connecting paths which may have different characteristics, allowed uses, and seasons. This trail is divided into multiple segments as follows:
Squirrel Gap - Bradley Creek to Mullinax
Allowed Uses:
Length: 0.7 mi
Squirrel Gap - Mullinax to Poundingmill
Allowed Uses:
Length: 0.84 mi
Squirrel Gap - Poundingmill to Cantrell Creek
Allowed Uses:
Length: 2.34 mi
Squirrel Gap - Cantrell Creek to Horse Cove Gap
Allowed Uses:
Length: 1.4 mi
Squirrel Gap - Horse Cove Gap to Wolf Ford
Allowed Uses:
Length: 2.39 mi
Total Calculated Length: 7.67 mi
This value is derived from our underlying map data, and it may not match officially published information.
Intersecting Trails
Feedback
Ratings
Average Rating: 4.0 (rated 1 times)
Rate It Now:
Comments