Poundingmill Trail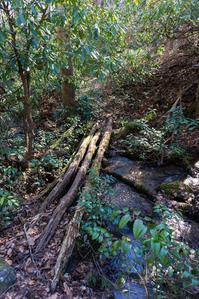 At A Glance


1.5 mi one-way
Difficulty Rating: 1.5 (More Difficult)
Steepness: Climbs Steeply
Tread Condition: Moderately Rough
Blaze Color: Orange
Trail Number: 349

This trail is located in the Mills River area. For a list of all the trails in that area, see the Mills River trails list page.
Description
Poundingmill is a lightly used trail which connects the South Mills River and Squirrel Gap trails (#133 and #147, respectively). It is a moderate climb at first as it follows Poundingmill Branch almost the entire way. There are numerous stream crossings, and although they are fairly shallow, rock hopping the lower ones may be tricky if the water is high. Others have bridges. The trail passes through several rhododendron thickets and young hardwood forests; it is heavily overgrown with doghobble in places yet still fairly obvious to follow.
0.4 miles from the S. Mills River trail, you will cross an old logging road, but the trail continues straight ahead. You will notice some forests with thick grass growing in the understory. In early summer, the observant will see Yellow Lady's Slippers alongside the trail. You may also notice signs of deer.
After a steep final climb starting at a remarkably rounded hillside, the trail connects to Squirrel Gap trail (#147) in a shallow gap on the shoulder of Poundingstone Mountain. Squirrel Gap provides for a variety of loop options in the area.
All Photos from the Trail
GPS Map
Download GPS Data
Click routes, trails, or points on the map to download them (on the GPS Data tab).
Total Calculated Length: 1.45 mi
This value is derived from our underlying map data, and it may not match officially published information.