Gate Trail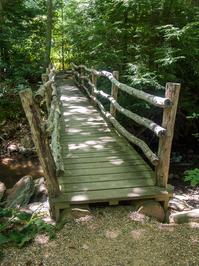 At A Glance


1.0 mi one-way
Difficulty Rating: 1 (Easy)
Steepness: Climbs Gently
Tread Condition: Some Obstacles
Blaze Color: Blue

This trail is located in the Montreat area. For a list of all the trails in that area, see the Montreat trails list page.
Description
The trail follows Flat Creek, and has many informative signs and nice benches on which to rest. This trail as an extension of the Nature Trail and includes "Elizabeth's Path", which was named for Elizabeth Peterson who loved to walk along this creek. Starts at the Montreat gate and ends at the Nature Center after passing through Robert Lake Park, which has one of the best playground/creek wading areas a kid has ever seen. If you're looking for an easy, pleasant walk that won't take too much time, or if your kids are interested in spotting some wildlife, or perhaps you'd like explore native plants in a streamside forest with them, there's hardly a better option in the region!
All Photos from the Trail
GPS Map
Download GPS Data
Click routes, trails, or points on the map to download them (on the GPS Data tab).
Trail Segments
Trails are often made up of several connecting paths which may have different characteristics, allowed uses, and seasons. This trail is divided into multiple segments as follows:
Gate - Road
Allowed Uses:
Length: 147 ft
Gate - Road - Rainbow Mtn Split
Allowed Uses:
Length: 165 ft
Gate Trail
Allowed Uses:
Length: 0.89 mi
Total Calculated Length: 0.94 mi
This value is derived from our underlying map data, and it may not match officially published information.
Intersecting Trails
Feedback
Ratings
Average Rating: (rated 0 times)
Rate It Now:
Comments