Harry Bryan Trail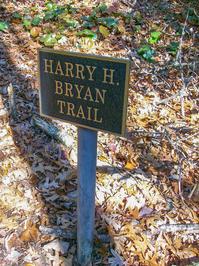 At A Glance


0.4 mi one-way
Difficulty Rating: 0.4 (Easy)
Steepness: Few Hills
Tread Condition: Some Obstacles
Blaze Color: Yellow

This trail is located in the Montreat area. For a list of all the trails in that area, see the Montreat trails list page.
Description
A gentle up-and-down hike through the woods of Bell Forest to Flat Creek and a bridge at the Graybeard trail. Makes a nice, easy 1.8 mi loop when combined with Graybeard and/or Julia Woodward/Sanctuary trails.
All Photos from the Trail
GPS Map
Download GPS Data
Click routes, trails, or points on the map to download them (on the GPS Data tab).
Total Calculated Length: 0.35 mi
This value is derived from our underlying map data, and it may not match officially published information.