Graybeard Trail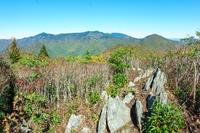 At A Glance


4.4 mi one-way
Difficulty Rating: 4.4 (More Difficult)
Steepness: Climbs Steeply
Tread Condition: Moderately Rough
Blaze Color: Blue
Hikes That Use This Trail: Graybeard Mountain

This trail is located in the Montreat area. For a list of all the trails in that area, see the Montreat trails list page.
Description
Crosses Flat Creek on a bridge and goes upstream on a steady uphill course. Past the Harry Bryan trail, the trail enters the Boggs Wilderness and climbs along an old roadbed. It crosses Flat Creek again, turns into a purpose-built singletrack trail and gets considerably steeper, then intersects the Old Trestle Road trail. Turn left; the trail's course along this stretch is an old railroad grade and is much easier walking as it passes through several switchbacks. A limited view opens up at a large rock outcropping. At the left-hand switchback near Flat Creek, a short side path leads to the small Graybeard Falls straight ahead. Graybeard Trail leaves the railroad grade just before the next encounter with Flat Creek and becomes steep again on purpose-built trail on the climb up to the shelter and Walker's Knob (5 minute side trail to a view on the left). Continuing uphill, right, at the shelter, the trail follows the ridge up to False Graybeard and the junction with the West Ridge trail. Turn right and follow the ridge, uphill, to reach the summit of 5700 ft Graybeard Mountain, with views East, North, and West of the Black and Craggy Mountains.
The official map lists this trail with a length of 3.3, but it is considerably longer than that.
For a much more detailed description of this trail, see the Graybeard Mountain Hike.
All Photos from the Trail
GPS Map
Download GPS Data
Click routes, trails, or points on the map to download them (on the GPS Data tab).
Trail Segments
Trails are often made up of several connecting paths which may have different characteristics, allowed uses, and seasons. This trail is divided into multiple segments as follows:
Graybeard Trail - Parking to Harry Bryan
Allowed Uses:
Length: 0.41 mi
Graybeard Trail - Harry Bryan to Trestle Road
Allowed Uses:
Length: 0.86 mi
Graybeard Trail - Old Trestle Road - to Graybeard Falls
Allowed Uses:
Length: 1.4 mi
Graybeard Falls Spur
Allowed Uses:
Length: 182 ft
Graybeard Trail - Old Trestle Road - Graybeard Falls to Old Trestle Road
Allowed Uses:
Length: 0.65 mi
Graybeard Trail - Upper Old Trestle Road to Walkers Knob Shelter
Allowed Uses:
Length: 0.29 mi
Graybeard Trail - Walkers Knob to False Graybeard West Ridge
Allowed Uses:
Length: 0.52 mi
Graybeard Trail - False Graybeard to Summit
Allowed Uses:
Length: 0.26 mi
Total Calculated Length: 4.42 mi
This value is derived from our underlying map data, and it may not match officially published information.
Intersecting Trails
Feedback
Ratings
Average Rating: (rated 0 times)
Rate It Now:
Comments