Rainbow Traverse Trail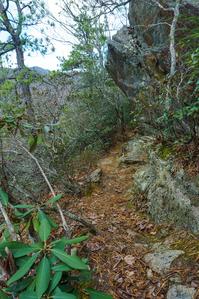 At A Glance


0.2 mi one-way
Difficulty Rating: 0.2 (Moderate)
Steepness: Hilly
Tread Condition: Moderately Rough
Blaze Color: Gray

This trail is located in the Montreat area. For a list of all the trails in that area, see the Montreat trails list page.
Description
Tight, twisty purpose-built trail passes through laurel and rhododendron thickets, with gnarly trees including Carolina hemlock and shortleaf pine arching overhead. Has some steep ups and downs. Passes an overlook with a limited view across the valley to the west, and along a ledge under a rock overhang. Makes a nice loop across Rainbow Mountain when combined with the trail of the same name and Rainbow Road.
All Photos from the Trail
GPS Map
Download GPS Data
Click routes, trails, or points on the map to download them (on the GPS Data tab).
Total Calculated Length: 0.19 mi
This value is derived from our underlying map data, and it may not match officially published information.