Overlook Trail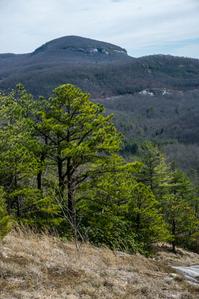 At A Glance


0.5 mi one-way
Difficulty Rating: 0.5


Steepness: Climbs Moderately


Tread Condition: Moderately Rough


Trail Number: 491

Description
Crosses the very summit of Blackrock Mountain before descending to the cliff areas for spectacular 180-degree views of Big and Little Green Mountains, and the entire Panthertown valley. The cliff-top viewing area has some nice flat spots to hang out and some shady pines growing around the edges for keeping cool and framing the scene for your best shots. The trail above the overlook area is a bit steep in spots, but moderate overall. Can be made into a beautiful loop via the Blackrock, Carlton's Way, North Road, and Panthertown Valley trails.
Intersecting Trails
This trail is located in the Panthertown Valley area. For a list of all the trails in that area, see the Panthertown Valley trails list page.
All Photos from the Trail
GPS Map
Download GPS Data
Click routes, trails, or points on the map to download them (on the GPS Data tab).
Feedback
Ratings
Average Rating: (rated 0 times)
Rate It Now:
Comments