Hiking the Panthertown Valley
The Panthertown Valley is one of those unique places well revered by many different groups of outdoor enthusiasts: hikers, photographers, backpackers, mountain bikers, equestrians, waterfall seekers, and ecologists alike see the area as one of the foremost parcels of land in the southern Appalachian mountains.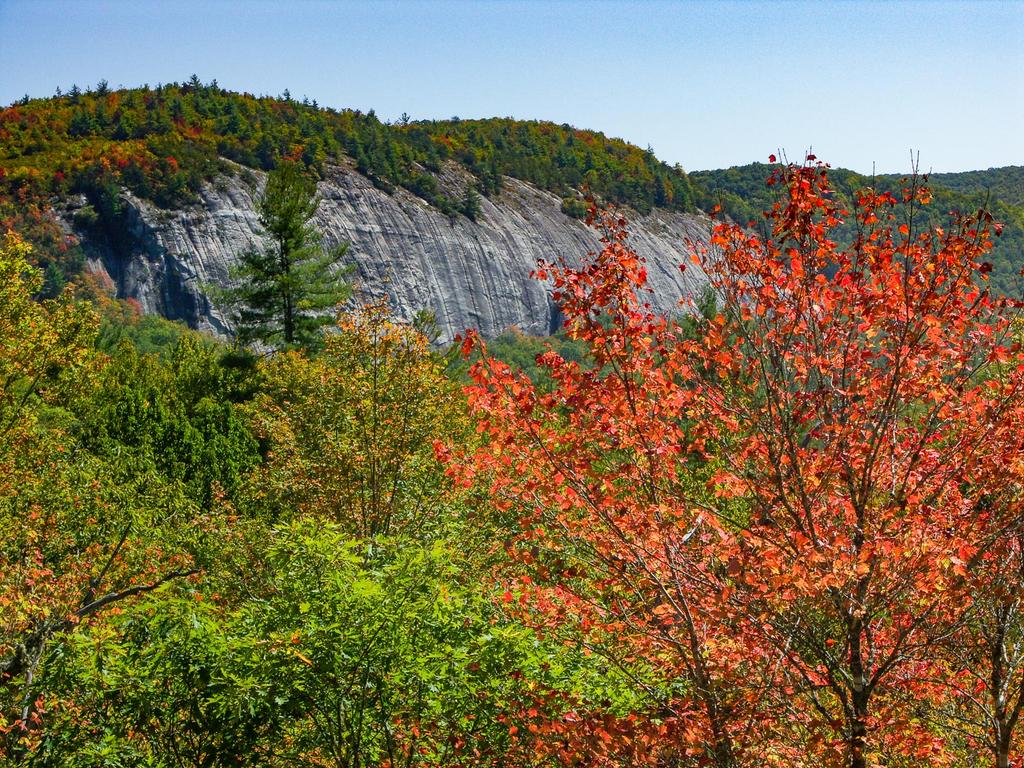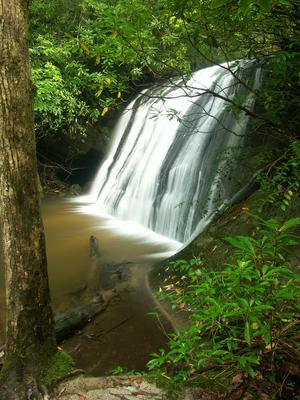 Overview
The valley contains a network of hiking trails that travel to a variety of popular destinations within this 6700 acre tract of high-elevation Forest Service land.
At least 8 major waterfalls and countless smaller ones lie along the area's streams. You'll also find hikes that take you to cliff-top views of the surrounding mountains, or to sandy beaches on deep, clear swimming holes. Bring a picnic to your favorite hangout spot on one of these beaches, or perhaps to a cliff-top view where you can supplement it with a handful of wild blueberries. All this is available on the trails of Panthertown!
Greenland Creek and Panthertown Creek are the area's main waterways, which join to form the Tuckaseegee river. It flows out of the area through gorges with colorful names such as "Devil's Elbow" and (on another fork) "Bonas Defeat".
In contrast with the typical "V" shaped valleys of these mountains, the Panthertown area (generally south of Flatrock Mountain and north of Hogback Mountain) is actually composed of several finger-like valleys that are nearly level at the bottom, flanked on three sides by sheer slopes and granite domes. And in those valleys, streams are slow and lazy, with some areas that look more like they belong down on the coastal plain, than at 3600' elevation in the mountains.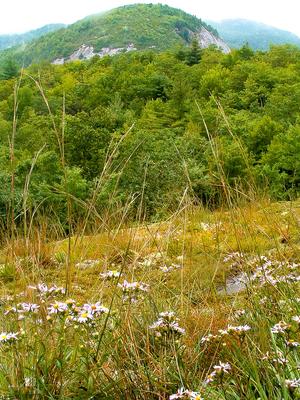 Rare, high-altitude mountain bogs lie along the streams in places, where fallen leaves steep in the water for days before the it finally trickles into the streams, staining the otherwise crystal-clear pools like tea. Rare plants grow both in the bogs and on top of the granite domes - environmental extremes, to say the least.
Forests in the area are varied, and contain a high concentration of mountain laurel and rhododendron thickets near the water. This isn't really unusual for Western North Carolina but the "laurel hells" here can be exceptionally thick!
The area is in what the Forest Service calls "Management Area 5", or Backcountry, which states its emphasis is to provide "large blocks of backcountry where there is little evidence of other humans or human activities other than recreation use in a near primitive setting".
What this means in practice is that timber production is not allowed, so the area will be able to return to a natural state. (See History below for more about that). Some areas North of the main Panthertown valley are open to limited timber harvest, but they are not in the area where most people visit.
Hiking Trails
The main Panthertown Valley trail connects the two main parking areas in the valley. A web of old roads and trails branch off from that in all directions. Everything from wide, well-worn old roads to faint, twisting, steep manways will be required to reach the main destinations such as the waterfalls in the valley.
The Forest Service has just now begun naming and improving the trails, even though it has owned the property for decades.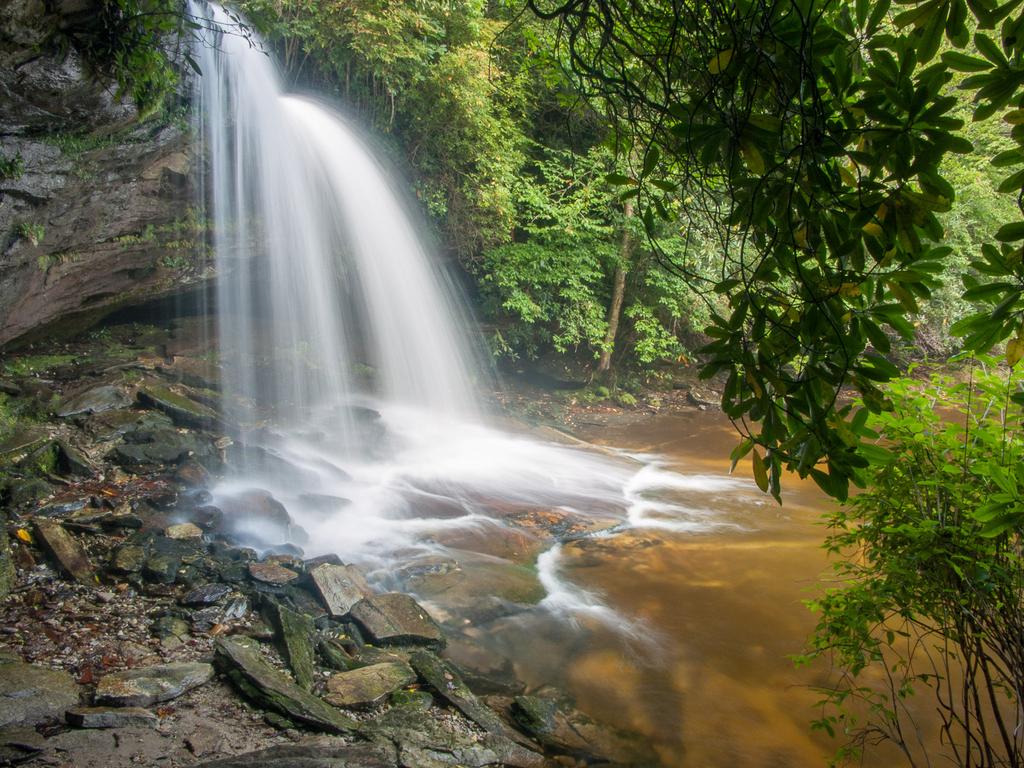 Many of the trails were created by the late Carlton McNeill in the 1990's, who lived just outside the valley until he passed away in 2007. He was considered by many to be the unofficial caretaker of Panthertown. He loved the place so much that he is single-handedly responsible for clearing many of the foot-paths leading to some of our favorite destinations there. He has a trail named after him, Carlton's Way, which connects the valley with the ridgeline via one of his signature routes.
Several of his trails which (mostly) met Forest Service standards have been added to the official trail system, mapped, and signed - and these are the ones you should use.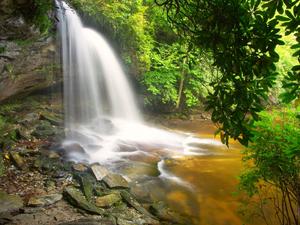 However, several more of these "user-created" trails, as the Forest Service calls them, still do exist. But they are not part of the official network and can be quite confusing to try and follow, since they're not mapped, blazed, or signed. We recommend you stick to the signed and mapped main paths for the best and safest experience in Panthertown.
For more information about the trails, see the Trails page or the Best Hikes in the valley.
The Friends of Panthertown group has a nice web site and blog which also has a variety of information about the valley. This is the group primarily responsible for the trail maintenance and signage in the valley, and they've done a fantastic job!
History
It has not been determined that any permanent settlement ever existed in the Valley, although human impact over the centuries has been tremendous. Native Americans hunted and fished this and almost every other valley in the mountains. Pioneers termed the valley "Paintertown" (local for "Panthertown") due to the wildness and (undoubtedly) the number of panthers, or Eastern Cougar, living in the area.
The land in the area was sold from a private developer, R. G. Jennings, during the 1920's. The entire valley was logged heavily after that time, as much of the Southern Appalachians were. Many of the main roads and trails were originally built during that time, such as the gravel road that switches back down past Schoolhouse Falls. And like other areas including Graveyard Fields and the Smokies, fires started in the leftover logging debris and raged through the valley. This, combined with heavy, flooding rains, caused massive erosion and killed most leftover vegetation.

Forests recover, and they have done so fairly well since being destroyed nearly 100 years ago. During the 1960's a private deelopment company bought the land and intended to turn it into yet another private, upscale development, complete with a lake and golf course. Thankfully, that did not happen, but thickets of white pines indicate areas that were planted for Christmas trees in the 70's. These trees were never harvested, and grew to become several of the stands of white pines we see in the valley today.

In 1987 Duke Power (now Duke Energy) bought the valley in order to build a high-voltage transmission line down its East side. Conservation groups and area biologists fiercely opposed this, but it happened anyway; this is probably the most apparent sign of human intrusion left in the area. After it was built, the land outside the power line's right-of-way was sold to the Nature Conservancey, and then, finally, the Forest Service.
Map
Here's a map of the Panthertown Valley area. For more maps, including information about printed publications, see our Panthertown Valley maps page.
Map Information
Download GPS Data
Click on a route, trail, or point on the map and select the GPS Data tab to download its data.
Data Formats
KML (Google Earth)
KML is the main file type used by Google Earth. If you have Google Earth installed, clicking the KML link should open the trail or point directly in Google Earth for viewing. This is the native file format used by Google Earth, but many other map applications can use and understand KML as well, so if you're not sure which one to download, KML is a good bet.
GPX
The GPX format stands for GPS Exchange - a free, open, XML format for exchanging GPS and map data. GPX is compatible with Google Earth, many other mapping programs, and most GPS devices (such as Garmin). Load the file directly into your GPS to help find your way on your next trip!
GeoJSON
GeoJSON is a newer, lightweight data exchange format which can be used to quickly share map data and may have a smaller size than KML or GPX. Many professional mapping and GIS applications support the GeoJSON format.
About the Map
Copyright
Base Layers
Base layers provided by OpenStreetMap, the US Geological Survey, the US Forest Service, and NC OneMap. Base layer images are subject to the respective copyright policies of their owners. Base layers may not be available at all times due to system maintenance or outages.
WNCOutdoors Base Layer
The WNCOutdoors Base layer is provided by WNCOutdoors.info. It is licensed by Creative Commons Attribution 3.0.
Trail and Marker Overlays
Trail layers and downloadable data are all original works created by WNCOutdoors with guidance from a variety of sources, including ensembles of our own GPS tracks, user contributed GPS tracks, official maps and GIS data from government agencies, and field observations. WNCOutdoors data is made freely available under the Open Database License - you are free to copy and use it for any purpose under the terms of that license (summary).
Tips
Hover over a trail to see it highlighted. Helps to see start and end points for an individual trail.
Scroll and zoom the map before printing, and that view will persist into the printed image.
Click a trail for more details and to download it individually.
Area News
Trail Designation Decision (5/1/09)
The US Forest Service has issued a decision regarding the trail naming and use designations within Panthertown. Most of the trails themselves remain unchanged, however. A lot of the maintenance budget that was originally planned on being spent here was lost, and that project was mostly scrapped. (Update Sept. 2012: Signage on the ground has been completed, and some re-routes are now back in planning 3 years later, including an important one on the Wilderness Falls trail.)
The forest service has released a nice official map of the area showing trail names, landmarks, and uses.
Places to Stay
Camping
No developed campgrounds are in the immediate area; however, many exist in the nearby towns from Brevard to Cashiers and Highlands. Backcountry camping is allowed anywhere within the area, and standard National Forest camping rules apply. Using common sense, you can find some excellent sites in the flat valleys, close enough to the waterfalls to soothe you to sleep at night. Keep your gear in bear bags: this is a bear sanctuary and they are quite common!
Directions
To the East Entrance (Cold Mountain Gap)
From Asheville:
Take I-240 West to I-26 East to the Asheville Airport, exit 40. Turn right onto NC 280; follow this for 16 miles to Brevard. At the intersection with US 64/276, continue straight onto this dual highway. In downtown Brevard, US 276 heads right; stay straight on US 64. US 64 bears right after passing through brevard. Follow US 64 for about 15 miles (it becomes very curvy) to the intersection with NC 281; turn right. See below.
From Highlands:
Follow US 64 East to Cashiers. 13 miles past the stoplight in Cashiers, just past the Lake Toxaway dam, turn left on NC 281. See below.
Once you are on NC 281, go 0.8 miles and turn left on Cold Mountain Road (the fire station is on the right). Proceed just under 6 miles up Cold Mountain Road; the road turns to gravel. At a sharp left turn, a sign will indicate the Panthertown parking is just ahead. It is 0.1 mile from the sharp left turn to a gravel road on the right signed for the parking area; the road is about 0.1 mile long and the parking area is at the end of the road.
To the West Entrance (Salt Rock)
From Asheville:
See above directions to NC 281, except continue past 281 on US 64 for 8 miles. Turn right on Cedar Creek Road, go 2.3 miles, then turn right on Breedlove Road. The parking area is at the end of the road in just under 4 miles. On my last visit, there were major mud holes and rocks on the last part of this road and a high-clearance or four-wheel drive vehicle may be necessary.
From Highlands:
Take US 64 East to Cashiers. 2 miles past the stoplight, turn left on Cedar Creek Road. Go 2.3 miles and turn right on Breedlove Road. The parking area is at the end of the road in just under 4 miles. On my last visit, there were major mud holes and rocks on the last part of this road and a high-clearance or four-wheel drive vehicle may be necessary.