Hunt-Fish Falls Trail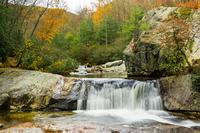 At A Glance


0.8 mi one-way
Difficulty Rating: 0.8


Steepness: Climbs Moderately


Tread Condition: Moderately Rough


Blaze Color: White / Yellow
Trail Number: 263

Description
This trail is a co-signed as a portion of the Mountains to Sea Trail and takes you to a popular, yet small, waterfall on Lost Cove Creek.
From the well signed trailhead on FR 464, the trail descends moderately through a few switchbacks and then follows a tributary branch downstream partway and crosses it once on a stone bridge. The rich forest has a thick understory of mountain laurel and rhododendron from top to bottom. The trail swings away from the branch as it drops out of its hanging valley, then makes another switchback before coming out right at the top of Hunt-Fish Falls, a two-part, 6-8 foot drop. The trail continues to the middle and bottom of the falls, where a huge pool makes a popular swimming hole in the summer. The tributary branch drops over its own 50' falls and spills across the trail into the middle of Hunt-Fish. Lost Cove Creek is scenic at this point with a humongous boulder sitting at the top of the falls. The Mountains to Sea Trail continues past the falls downstream.
Intersecting Trails
This trail is located in the Wilson Creek Area area. For a list of all the trails in that area, see the Wilson Creek Area trails list page.
All Photos from the Trail
GPS Map
Download GPS Data
Click routes, trails, or points on the map to download them (on the GPS Data tab).
Trail Segments
Trails are often made up of several connecting paths which may have different characteristics, allowed uses, and seasons. This trail is divided into multiple segments as follows:
Hunt Fish Falls - MST Section 13
Allowed Uses: Hiking
Length: 0.73 mi
Lost Cove - Hunt Fish Falls - MST Section 03
Allowed Uses: Hiking
Length: 173 ft
Hunt Fish Falls
Allowed Uses: Hiking
Length: 205 ft
Total Calculated Length: 0.8 mi
This value is derived from our underlying map data, and it may not match officially published information.
Feedback
Ratings
Average Rating: 3.5 (rated 21 times)
Rate It Now:
Comments