Little Lost Cove Cliffs Trail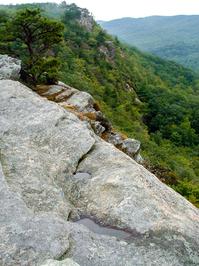 At A Glance


1.3 mi one-way
Difficulty Rating: 1.3 (Moderate)
Steepness: Hilly
Tread Condition: Some Obstacles
Blaze Color: Orange
Trail Number: 271A

Description
A nice trail leads to the eponymous rock outcrop from which a spectacular view of the Blue Ridge Mountains with Grandfather Mountain at the top unfolds. Most of the trail follows old road or skid road beds; it is moderately rocky in places but generally in good shape. The highest point on the trail has a few side paths over to the cliffs; be sure to explore them all. Use caution at the cliffs, especially with children - there is plenty of flat rock to hang out on safely, but keep away from the edge. Climbers use this area frequently as well. Highly recommended especially in fall. Each end connects to FS 464; the lower end connects at the same spot as North Harper Creek Falls trail so you could combine a hike to the cliffs with one to the falls or make a loop using the N. Harper Creek trail and FS 464.
This trail is located in the Wilson Creek Area area. For a list of all the trails in that area, see the Wilson Creek Area trails list page.
All Photos from the Trail
GPS Map
Download GPS Data
Click routes, trails, or points on the map to download them (on the GPS Data tab).
Total Calculated Length: 1.25 mi
This value is derived from our underlying map data, and it may not match officially published information.