North Harper Creek Falls Trail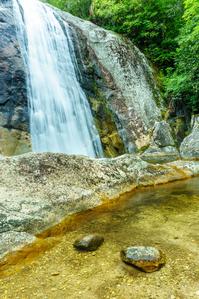 At A Glance


1.3 mi one-way
Difficulty Rating: 1.3


Steepness: Climbs Steeply


Tread Condition: Moderately Rough


Blaze Color: Yellow
Trail Number: 239

Description
75% of this trail is in great shape; travels along an old roadbed through beautiful woods with few obstacles. Judging by the size of the trees growing on the roadbed, it's been here a while. The last little bit turns into a true foot path and is a bit rougher. Ends at the intersection with the blue-blazed North Harper Creek trail; to get the rest of the way to the falls, turn left and go down a steep portion of that path. The steep part comes out at the top of a smaller sliding cascade called Chestnut Cove Branch Falls. Turn right onto an un-named but obvious path, which comes to a creek crossing. Go upstream on either side of the creek about 100' to the falls.
Intersecting Trails
This trail is located in the Wilson Creek Area area. For a list of all the trails in that area, see the Wilson Creek Area trails list page.
All Photos from the Trail
GPS Map
Download GPS Data
Click routes, trails, or points on the map to download them (on the GPS Data tab).
Feedback
Ratings
Average Rating: 5.0 (rated 2 times)
Rate It Now:
Comments