Graveyard Fields
Overview
Note September 2020: Visiting Graveyard Fields is not advised at this time due to over-use especially on weekends Spring thru Fall. This has resulted in unsanitary conditions and resource damage, and an inability to take proper precautions during the pandemic.
"Graveyard Fields" is the name of a high mountain valley adjacent to the Blue Ridge Parkway south of Mount Pisgah. With its relatively open views, cool summer temperatures, cascading waterfalls, and wide variety of hiking trails, Graveyard Fields is one of the most popular outdoor recreation areas in all of Western North Carolina.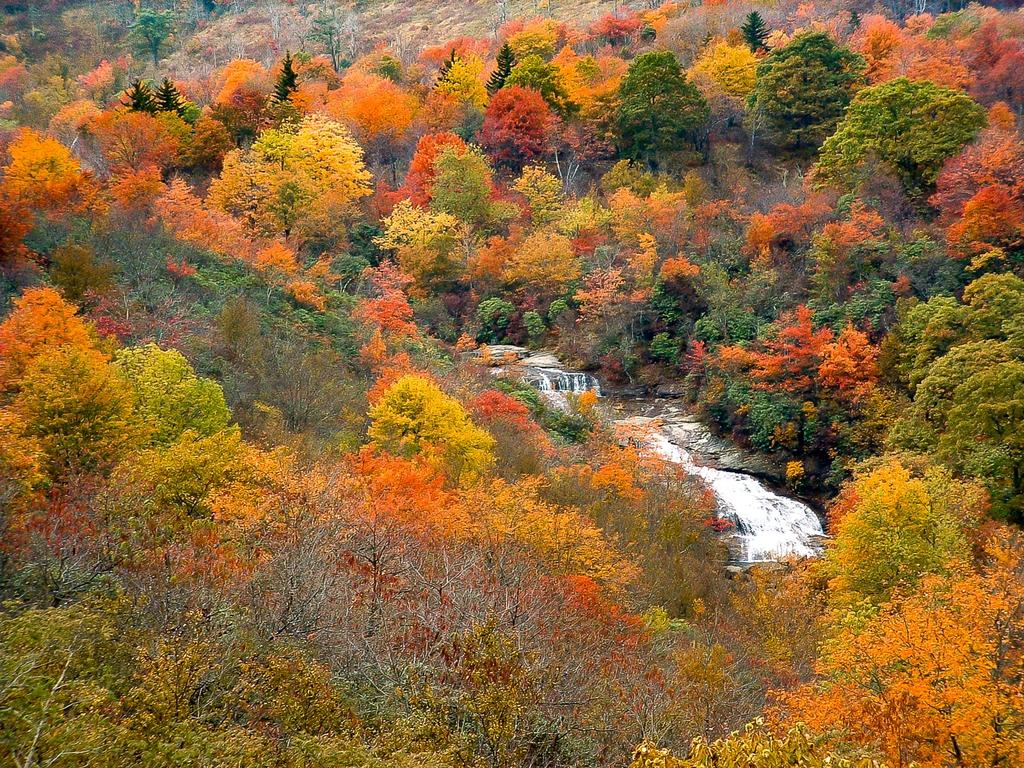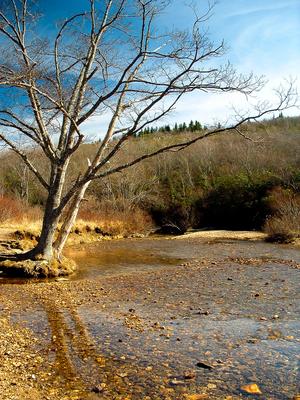 This unusually flat valley at over 5000 ft in elevation was once like an upside-down mountain "bald", with "fields" of high-elevation grasses and shrubs carpeting the valley floor. True mountain balds surrounded it. But, like many summit balds, the valley is slowly growing over with shrubs and trees, replacing the once-open areas with young forest.
The Yellowstone Prong gathers in the surrounding peaks, tumbles over Upper Falls into the western end of the valley, flows lazily through it, and then spills out the eastern end over Second Falls (before going on to form Skinny Dip Falls and the Big East fork river in the Shining Rock Wilderness Area).
Between the Upper Falls and Second Falls the river is slow and flat, with meanders, gravel bars, braided channels and crystal-clear still pools supporting native Brook trout. Rare mountain bogs lie along springs and seeps in the valley.
Hiking Options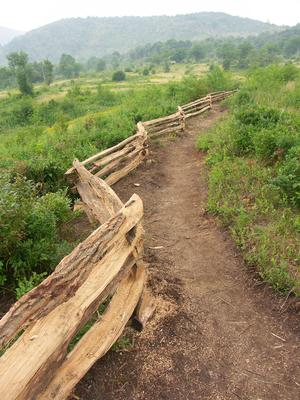 There's no shortage of trails to explore in Graveyard Fields. While unofficial "manway" trails wind all over the valley, a good network of official trails are in place and should be used instead.
Easy
An excellent loop trail (the Graveyard Fields Loop) enters the area from an understandably crowded overlook on the Blue Ridge Parkway. From it, spur trails lead to two of the three major waterfalls on the Yellowstone Prong. A visit to Second Falls, combined with the loop trail back to the overlook parking, makes for a nice, easy hike within the valley. This is the option the vast majority of visitors to Graveyard Fields opt for.
Moderate
If you're looking for a bit more of a challenge, or to leave the crowds behind, the Graveyard Ridge trail ascends and then travels along its eponymous mountain before ending at the intersection with the Ivestor Gap and Mountains to Sea Trails. The Mountains to Sea trail can be hiked in either direction as well. (See Loop Options below).
More Difficult
Graveyard Ridge trail leads up into the Black Balsam Knob area and on to the Shining Rock Wilderness (the Mountains to Sea Trail leads to the Shining Rock Wilderness in both directions), making for some excellent day and overnight hikes that begin in Graveyard Fields. Perhaps more appealing might be to hike down into Graveyard Fields from a nearby area during a more crowded time when parking can be limited.
Loop Options
In addition to the standard Graveyard Fields Loop hike, which travels to both waterfalls, several other possibilities for look hikes are in the area. Here are some additional suggestions that will take you farther from the most crowds (use a map to scope these out before your hike):
Short Graveyard Ridge Loop (Moderate ): for a shorter hike that takes in some of the views from Graveyard Ridge, follow this route:

Start the Graveyard Fields Loop on the right side of the overlook, then
→ Cross the bridge over Yellowstone Prong
→ R. toward Second Falls
→ L. on Mountains to Sea Access trail
→ L. on Mountains to Sea Trail
→ L. at 1st (eastern) jct. with Graveyard Ridge Trail
→ L. at Graveyard Ridge Connector
→ L. at Graveyard Fields Loop
→ R. at bridge to return

Long Graveyard Ridge Loop (More Difficult ): for a longer hike that offers more exercise, views into the next valley, and even more views from Graveyard Ridge, try this route:

Start the Graveyard Fields Loop on the right side of the overlook, then
→ Cross the bridge over Yellowstone Prong
→ R. toward Second Falls
→ L. on Mountains to Sea Access trail
→ L. on Mountains to Sea trail
→ R. at 1st (eastern) jct. with Graveyard Ridge trail to stay on the MST along north side of Graveyard Ridge
→ L. at 2nd (western) Graveyard Ridge Trail Junction
→ R. on Graveyard Ridge Connector
→ L. on Graveyard Fields Loop
→ R. at bridge to return
This is just an overview of trails available in this Trailhead area. For all the trail details, visit the trails page.
Map
Here's a map of the Graveyard Fields area. For more maps, including printed publications, see our Graveyard Fields maps page.
Map Information
Download GPS Data
Click on a route, trail, or point on the map and select the GPS Data tab to download its data.
Data Formats
KML (Google Earth)
KML is the main file type used by Google Earth. If you have Google Earth installed, clicking the KML link should open the trail or point directly in Google Earth for viewing. This is the native file format used by Google Earth, but many other map applications can use and understand KML as well, so if you're not sure which one to download, KML is a good bet.
GPX
The GPX format stands for GPS Exchange - a free, open, XML format for exchanging GPS and map data. GPX is compatible with Google Earth, many other mapping programs, and most GPS devices (such as Garmin). Load the file directly into your GPS to help find your way on your next trip!
GeoJSON
GeoJSON is a newer, lightweight data exchange format which can be used to quickly share map data and may have a smaller size than KML or GPX. Many professional mapping and GIS applications support the GeoJSON format.
About the Map
Copyright
Base Layers
Base layers provided by OpenStreetMap, the US Geological Survey, the US Forest Service, and NC OneMap. Base layer images are subject to the respective copyright policies of their owners. Base layers may not be available at all times due to system maintenance or outages.
WNCOutdoors Base Layer
The WNCOutdoors Base layer is provided by WNCOutdoors.info. It is licensed by Creative Commons Attribution 3.0.
Trail and Marker Overlays
Trail layers and downloadable data are all original works created by WNCOutdoors with guidance from a variety of sources, including ensembles of our own GPS tracks, user contributed GPS tracks, official maps and GIS data from government agencies, and field observations. WNCOutdoors data is made freely available under the Open Database License - you are free to copy and use it for any purpose under the terms of that license (summary).
Tips
Hover over a trail to see it highlighted. Helps to see start and end points for an individual trail.
Scroll and zoom the map before printing, and that view will persist into the printed image.
Click a trail for more details and to download it individually.
History
The area certainly has an interesting name, and there are several theories about what might have lent the moniker. A natural explanation for it originates from a time when a windstorm blew down hundreds of the spruce and fir trees that originally blanketed the entire area. The upturned roots supposedly resembled gravestones in a graveyard.
But there is a man-made explanation as well. During the early 1900's, when the mountains were being extensively logged, all that remained in this valley were the stumps of cut trees. Over time, mosses eventually grew all over the stumps, resembling an overgrown graveyard.
However, later during the logging era, catastrophic fires swept through the area, destroying anything resembling a graveyard and heating the soil enough to sterilize it. The once dense spruce-fir forest was changed into an open area of meadows and rocky slopes, making the area popular for recreation thanks to the unusually open views that catastrophe afforded.
For many years after the fires, plants had trouble growing in the nutrient-poor soil. Periodic smaller fires, as recently as November 1999, aided in keeping the area open with mostly grasses and low shrubs growing between the scattered small and medium-sized trees. Mother Nature has invested a lot of energy into improving the soil, however, and today the trees, shrubs, and herbs that once blanketed the area are re-establishing themselves (to the detriment of the once-ubiquitous views). Graveyard Fields is now more properly a young forest than the "fields" from times past.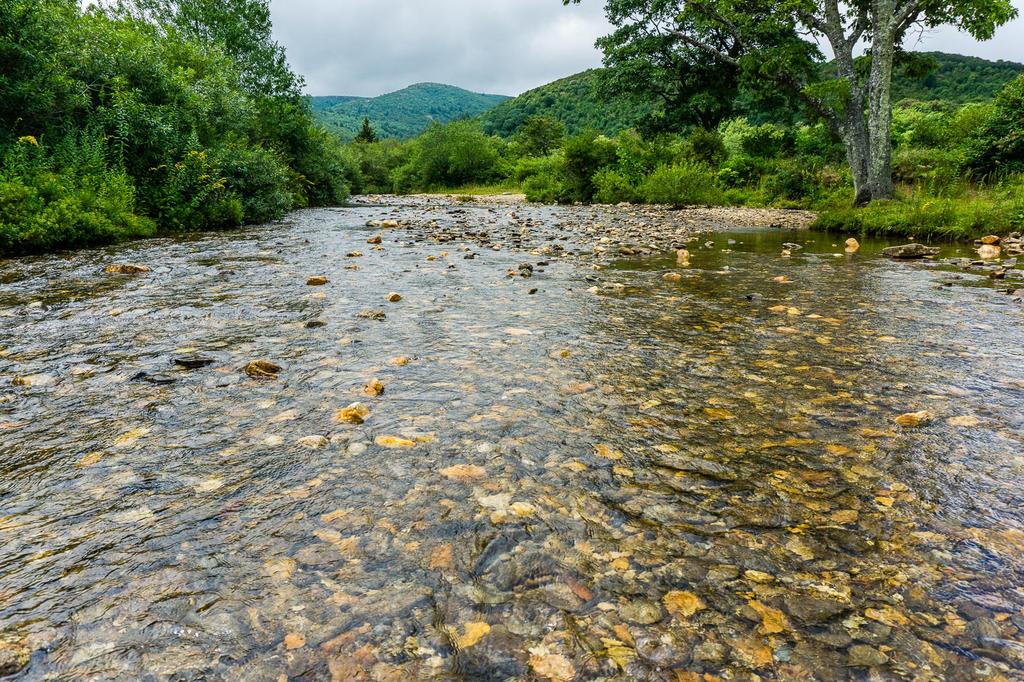 News
Camping in Graveyard Fields Prohibited
Camping in the "Graveyard Fields Vicinity" has been "temporarily" prohibited since March 2015 due to bear activity. It is unclear if this restriction may be lifted in the future, and it is not exactly clear what constitutes the "Graveyard Fields Vicinity" for the purposes of this restriction. To be safe, I'd assume anything within or on the margins of the Yellowstone Prong drainage to be off-limits. That includes along the Graveyard Ridge trail, the gap between Graveyard Ridge and Black Balsam, and the areas above Yellowstone Falls.
Expanded Parking Area and Restrooms at Parkway Overlook
The Blue Ridge Parkway's Graveyard Fields overlook has been expanded, from 15 parking spaces previously to 40 now. In addition, a solar-powered pit toilet was installed to meet the needs of visitors. However, parking is now prohibited along the Parkway shoulders and outside of designated spaces in the official overlook. Rangers are issuing tickets for those found to be illegally parked; if the lot is full, hike in from the Mountains to Sea Trail (from Looking Glass Rock Overlook or Black Balsam Road), or visit another time.
New Bridge on South Side of Loop
The upper bridge over the Yellowstone Prong was reconstructed and should be adequate for many years in the future, no matter what floods may come. This completes the loop and most of the trail maintenance issues in the area; however, there are still some very bad sections of trail and the newly constructed trail isn't holding up perfectly either. Still, it's an improvement.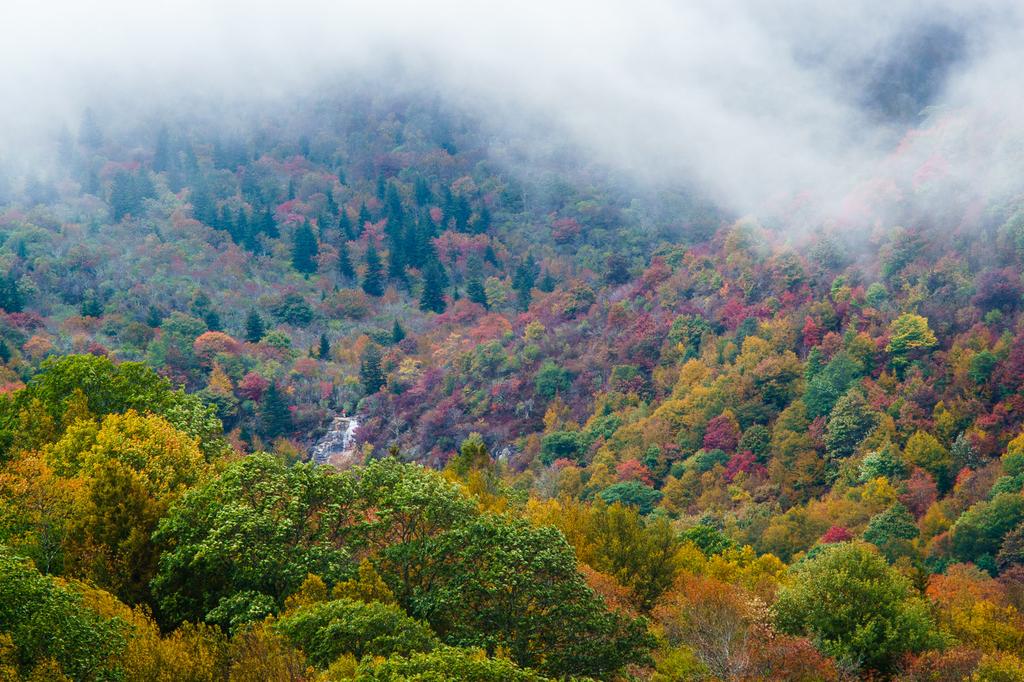 Camping and Lodging
Camping
Camping is not currently allowed in Graveyard Fields - see the above notice. Camping is normally allowed anywhere on National Forest property, subject to applicable National Forest backcountry camping regulations. Dispersed camping is allowed in the National Forest outside Graveyard Fields.
Bear canisters are required in areas outside the Graveyard Fields Vicinity that are still open to camping. All bear canisters must be commercially made; constructed of solid, non-pliable material manufactured for the specific purpose of resisting entry by bears.
Some campsites in the area are over-used, but it's better to use one of those than to make a new one. Just do your part to keep it clean - don't trample vegetation, don't leave half-burned logs in the fire ring, and don't take a soapy bath in the stream!
There are no developed campgrounds in the immediate area. The closest ones would be at Mount Pisgah, about 20 minutes south on the Parkway, and Davidson River Campground, about 30 minutes East along US Hwy. 276.
Directions
From Asheville
Take the Blue Ridge Parkway South past Mount Pisgah and US Hwy. 276. The Graveyard Fields overlook is at milepost 418.8, just over 25 miles from the NC 191/Brevard Road entrance to the Parkway in Asheville. Park only in designated spaces (there are 40 of them now).
If the Graveyard Fields overlook is full, don't park in the grass, or you will be ticketed. Come back later, or you can still hike into the area via a longer, more difficult hike. Park at the Looking Glass Rock overlook and take the Mountains to Sea Trail west past Skinny Dip Falls, or parking at the Black Balsam Knob parking area and taking the Mountains to Sea Trail east toward Graveyard Ridge. Both of these options offer more difficult excursions into the Graveyard Fields area.