Short Hikes Near Asheville on the Blue Ridge Parkway
Get Some Exercise!
For those days when you're short on time, but still looking to get outside, a short hike near the city of Asheville might be a good option to fulfill the need to put boots to dirt. An option so popular, in fact, that the Obama's chose to do just this on their visit in April 2010!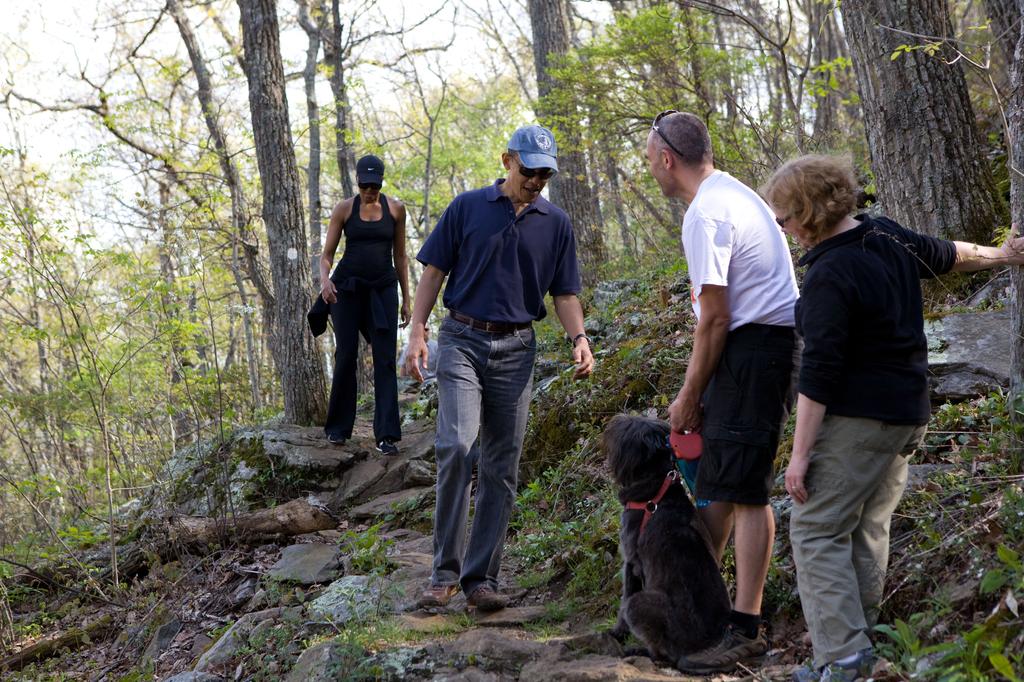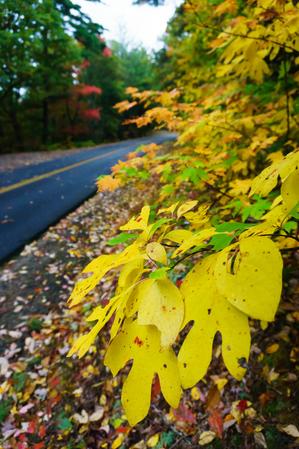 Within a 30 minute drive of the city of Asheville via the Blue Ridge Parkway, a number of sections of North Carolina's Mountains to Sea Trail fit the bill just perfectly. And while the trail spans the entire state, shorter segments of the trail along the Parkway are great for exercise walks, day hikes with children, or quick stress relieving strolls after work or on holidays when a full day outing isn't in the schedule.
The Mountains to Sea Trail follows the Blue Ridge Parkway right through town, from Mount Pisgah in the South to Craggy Gardens in the North. Most of these hikes are out-and-back, so you can take the whole segment described below, or simply walk 'till you're done and then return to your car!
Accessing the Parkway
The quickest way onto the Parkway from downtown Asheville is via I-240 and US 74A East (Charlotte Highway, the blue route on the map). But you could also take Town Mountain Road (NC 694) for a more scenic, curvy route or Tunnel Road (US 70) if you don't mind a few stoplights. From South Asheville or Biltmore Village, you can use Hendersonville Road (US 25 South) and if you're in West Asheville use Brevard Road past the Asheville Outlets Mall (NC 191 South).
We'll use the Blue Ridge Parkway Visitor Center (near the US 74A juction) as the dividing point to refer to either "North" or "South" of Asheville.
North - Hikes Between Asheville and Craggy Gardens
---
Visitor Center Loop (Milepost 384)
Easy, 1.2 miles, 45 minutes to hike
The Mountains to Sea Trail travels along the east side of the Blue Ridge Parkway, while a spur loop crosses to the west side and up to the new Visitor Center. An excellent short hike combines these into a loop. It's a great leg stretcher, or even as a first venture into the woods for the younger ones. You're never too far from the road and never too far from the parking area, but it gives you a chance to get out and see a recovering second-growth forest at various stages of succession. There's also a neat tunnel under the Parkway that the kids will enjoy. The surface is mostly smooth, with only a few sections with rocks, roots, or log steps.
The trailhead is at the far end of the Visitor Center parking lot. There is a sign at the start of the trail and all intersections are well signed. The Visitor Center is the highest point on the loop, so it'll be half downhill and half uphill (but neither steep nor a high elevation change). Turn left and go clockwise for a more gradual descent, or turn right and go counterclockwise for a more gradual climb.
---
Folk Art Center to Bull Mountain
Easy, 1.5 miles, 45 minutes to hike, smooth trail
Milepost 382 (2.1 mi north)
This short section of trail is well-maintained and heavily used, located just outside the city limits. Park at the Folk Art Center, just North of US 70 (Tunnel Road). You can also park at the Tunnel Road intersection if the Parkway is closed, so this hike is do-able in the snow. Follow the Mountains to Sea Trail north, across Riceville Road, then begin a climb up a steep but short hill. The trail travels past some impressively large trees, and through a mixed low-elevation hardwood and pine forest which is mostly dry, so this hike is also doable soon after rain. After a climb of about 200 ft, you'll reach the summit of a low, rounded knob called "Bull Mountain". Just beyond that is a short descent to where the trail crosses the Parkway.
Return via the same path, or you can return via the Parkway itself if it is closed. For an on-trail loop option, start back on the Mountains to Sea Trail, then look to the right just after starting downhill for an obvious side path leading uphill. This steep, but very short connector comes out on a grassy road near the Parkway's shooting range. (Keep out). Turn left here, and left again at the next junction. The old road (which still has pavement underneath layers of leaves and dirt in places) winds its way down past an old water tank to Bull Mountain Road at a gate. Take a left at the gate, then follow the boulders to a very short path on the left which connects back to the Mountains to Sea Trail. A right turn will then take you back across Riceville Road and to the Folk Art Center.
---
Craven Gap
Moderate, varying lengths up to 2.5 miles, some obstacles on trail, allow 1-2 hours to hike
Milepost 377.4 (6.8 mi north)
The trail from Craven Gap makes a nice hike in both the southerly and northerly directions. This segment of the trail is a bit higher in elevation, meaning temperatures will be noticeably cooler than in Asheville - nice during the summer. A parking pulloff beside the end of Town Mountain Road in Craven Gap is a good place to access the trail, and is reachable via Town Mountain Road or Webb Cove Road even if the Parkway is closed due to snow. Return via the same trail or the Parkway if it is closed.
South toward Grassy Branch
The trail is mostly level, with a few ups-and-downs, as it passes through a beautiful forest. It's right below the Blue Ridge Parkway for most of its length, and crosses the headwaters of a couple of small streams. It begins a more significant climb toward an unnamed peak above the Haw Creek Valley overlook, which makes a nice stopping point, or reach the Parkway after descending the other side.
North to Rice Knob/Ox Creek Road
The trail starts uphill in this direction but soon levels out. There is no significant overall elevation gain all the way to Ox Creek Road, but there are some nice up-and-down sections to get your blood pumping. It is a well-designed and maintained section of the trail. Good turn-around points include the ridge leading down from Rice Knob (where the trail starts going more steeply downhill), or Ox Creek Road.
This is the section of trail that President Obama and the First Lady hiked on their vacation to Asheville on April 24, 2010!
The trail is dry to start out; it becomes wetter toward Ox Creek Road with a few small creek crossings. Along this stretch, there are some limited views of Lane Pinnacle (thanks to hurricanes Frances and Ivan). You'll also find large trees, a small rock cave, a small rock outcropping that is just covered in wildflowers at the right time of year, wild mountain mint, and even some prickly pear cactus!
---
Bull Gap to Rattlesnake Lodge
Moderate, 2.6 miles, 2 hours to hike
Milepost 375.6 (8.4 mi north)
This segment of the trail is one of the Best Hikes on this site. Visit the Rattlesnake Lodge Hike page for more information.
---
South - Hikes Between Asheville and Mount Pisgah
From Sleepy Gap south around Grassy Knob
Easy, up to 2 miles, 1 hour to hike
An overlook and parking area in Sleepy Gap marks the This segment of the Mountains to Sea Trail is nearly level with a fairly smooth surface. It is also part of the historic Shut-In Trail. From the overlook parking area, take the signed Mountains to Sea Trail to the right. Some side paths go left and right; stay on the level path. it has white blazes. You travel around the slopes of Grassy Knob just below 3000' elevation. You will find a few rocks, roots, and muddy stretches here and there, but it's nothing to worry about. This segment makes an excellent leg-stretcher on a trip up to Mount Pisgah, a quick exercise hike, or a place to bring a camera during spring wildflowers, fall foliage, or fog which enshrouds the laurels at times. Large trees; lush forest. Near the Parkway a large, imposing bluff above the trail shelters a neat, flat cove below the trail.