Art Loeb Section 2 Trail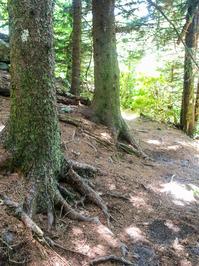 At A Glance


7.2 mi one-way
Difficulty Rating: 7.2


Blaze Color: White

Description
Starting in Gloucester Gap, this section of the Art Loeb trail winds its way up the ridge extending east from Pilot Mountain before crossing over the summit. It dips down into Deep Gap and Farlow Gap before resuming its climb, up Shuck Ridge, where it crosses above 5000 ft in elevation. It crosses the Blue Ridge Parkway, before reaching the summit of Silvermine Bald, where it joins with the Mountains to Sea Trail and levels out considerably. This section of trail finishes with a relatively level stretch thru a spruce-fir forest, ending at Black Balsam Road and a popular parking area.
Intersecting Trails
This trail is located in the Davidson River area. For a list of all the trails in that area, see the Davidson River trails list page.
This trail also crosses into these trailhead areas:
All Photos from the Trail
GPS Map
Download GPS Data
Click routes, trails, or points on the map to download them (on the GPS Data tab).
Trail Segments
Trails are often made up of several connecting paths which may have different characteristics, allowed uses, and seasons. This trail is divided into multiple segments as follows:
Art Loeb Section 2
Allowed Uses: Hiking
Length: 3.78 mi
Art Loeb Section 2 - Farlow Gap to BRP
Allowed Uses: Hiking
Length: 1.45 mi
Art Loeb Section 2 - BRP to MST Silvermine Bald
Allowed Uses: Hiking
Length: 0.33 mi
Mountains to Sea Trail - Art Loeb - Silvermine Bald to Black Balsam Rd.
Allowed Uses: Hiking
Length: 1.09 mi
Total Calculated Length: 6.65 mi
This value is derived from our underlying map data, and it may not match officially published information.
Feedback
Ratings
Average Rating: 4.0 (rated 1 times)
Rate It Now:
Comments