Big Piney Ridge Trail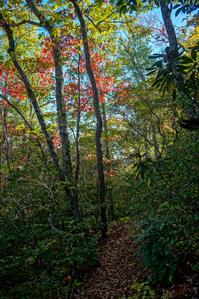 At A Glance


1.6 mi one-way
Difficulty Rating: 1.6 (More Difficult)
Steepness: Climbs Steeply
Tread Condition: Very Rough
Blaze Color: Orange
Hikes That Use This Trail: Graybeard Mountain

This trail is located in the Montreat area. For a list of all the trails in that area, see the Montreat trails list page.
Description
Climbs steeply from the parking area at the end of Suwannee Drive to the West Ridge trail. Passes through switchbacks in places; some spots require rock scrambling where the trail passes directly over outcrops. Passes through the ridge's eponymous pine forests near the summit. There is an excellent view of Black Mountain and the Swannanoa Valley from an overlook called Rattlesnake Rock near the top of the trail.
All Photos from the Trail
GPS Map
Download GPS Data
Click routes, trails, or points on the map to download them (on the GPS Data tab).
Total Calculated Length: 0.94 mi
This value is derived from our underlying map data, and it may not match officially published information.